Setting up a blog back in 2012 was one of the best investment I have ever made in my business.
Ever since my blog has: 
Landed me a dream job working as a social media director even before I graduated college. 
Helped me position my brand and showcase my knowledge, which allowed me to book myself solid before I quit my 9-5. 
Attracted so many of my ideal clients, I had a waitlist for two years in a row. 
Allowed me to build an audience so I could transition my business from a service model to an infoproduct model.
Continues to grow my email list by 50-100 new subscribers each day. 
And it's no wonder blogs and content marketing have been all the hype for quite a while.
They actually work. 
Content marketing costs 62% less than traditional marketing and generates about 3 times as many leads. [Source: DemandMetrics]
So if you are thinking about starting your own blog or you need a little more convincing, here's what a blog can do for your brand.
1.Increase your authority and position your brand
This applies even more if you are a coach, a consultant, an author or just an expert in your field. Blogging allows you to showcase your knowledge and automatically increases your authority within your industry.
Which means more exposure and more clients knocking at your digital door.
2. Promote your content with less friction
 When you give value first, you build a goodwill with your audience, which in turn, helps you to market your brand without rubbing people the wrong way or being too pushy.
Blogging helps build anticipation, increase awareness that a specific problem exists and helps move your prospects along in the buying process.
It's the best type of marketing because it often doesn't even feel like marketing at all.
3. Attracts new eyeballs
People these days CRAVE content. They're actively looking for it; they want to consume it, and they'd rather learn about a product or service via an article or a blog than through an advertisement.
And this, my friend, is your golden opportunity.
Blogging will help you reach a wider audience, and if you market it right, your blog will attract new prospects into your brand ecosystem.
Which means more leads and more sales (#boom).
4. Turn cold leads into warm prospects 
What are cold leads?
They are people who need your products, programs or services but have no idea your brand exists. One of the easiest ways to turn a cold lead into a prospect is by ''warming them up'' to your brand via content.
It's a strategy I've used for years, and practically every single business model can utilize (if the hubby and I can use it for a blue collar moving company, you can crush it with this strategy for your online brand).
But before you run off to register your domain name and set up shop on the net, let's get your strategy down pat (and if you already own a blog, this is a great time to re-examine your strategy).
See you can't just have a blog, put a bunch of content on it and call it a day.
You need to spend some time outlining how your blogs fit into your overall business strategy so that you can, over time, build a hub of quality content that increases your reputation, builds your audience and increases your revenue.
Remember, content marketing is a long-term strategy.
It's not a quick-fix cash cow, but if you invest in it from the get-go, you'll have a business asset that will eventually bring in leads and sales for your business.
Setting Up Your Blog Strategy
Get Clear On Your Purpose
Why does your blog exist? What type of audience are you looking to attract? How will you serve your audience?
It's very important that you know why you are blogging, to begin with, and who you are trying to attract.
Remember, you need to make sure you are attracting an audience that will eventually purchase your products, programs or services.
Otherwise, you'll be building a blog just for the sake of it ('ain't nobody got time for that).
Plan & Produce Incredible Content
Now that you have a good idea of what type of audience you are aiming to attract, it's time to get up close and personal, baby (without being creepy).
If you get really clear on the pain points and challenges your audience is facing, you'll have loads of sure-fire content ideas.
That is the key right there.
And it makes sense, right?
If you find out what problems your audience is facing and you can help solve them via your content, you'll consistently create content they will love to consume.
 So it's time to outline your blog topics.
Here are some other ways you can research and find amazing content ideas for your blog:
Survey your email list or social media fans. Ask what topics they want you to cover.
Hop on the phone with existing customers and ask about their pain points and challenges.
Search Quora for relevant questions and use them to inspire topics related to your industry.
Use BuzzSumo to find popular blog posts that are relevant to your niche and remix (not copy) them.
Now that you have a better idea of where to find blog topics, whip out a Google Spreadsheet, a Trello board or your Asana project and create your own blog content ideas bank.
I personally love Trello and use it to keep a running list of ideas and collaborate with my team when it comes to publishing my content.
But when it comes to brainstorming dozens of blog content ideas, I love using our Blog Content Bank Spreadsheet.
This is a resource I created for new our Bloggin' For Business course that's part of our exclusive membership, The Business Lounge, so if you want to learn more about designing a profitable blogging strategy, definitely sign up for my free masterclass below!

I love content banks because it helps me skip the whole scenario where I'm frantically looking for ideas when it's time to write my blog content.
Next, build yourself a kick-butt content calendar.
I'm not going to go into details since we have a monster, step-by-step blog guide all about creating killer content calendars you can reference here.
Just know you need one and you can't afford to skip this step if you want to stay consistent and grow your audience strategically.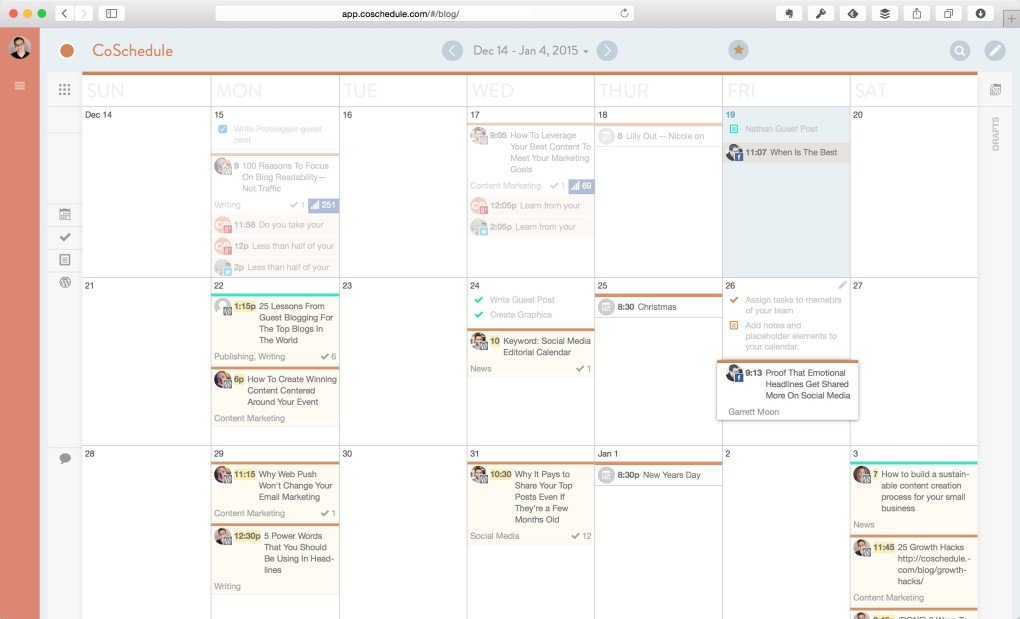 I suggest using a tool like Coschedule or Trello to get your killer content calendar set up the right way. 🙂
Finally, figure out how frequently you are going to be publishing your blog content.
This, of course, is going to depend on your resources.
So a good rule of thumb to start with is one blog post per week. It's a sustainable frequency, and that is the key.
You want to keep your audience engaged, but you don't want to burn out.
So figure out the frequency you can realistically sustain consistently and stick with it.
For me, the right frequency is 1-2 per week, and it's the sweet spot for both my brand and my audience.
Monetize Like A Pro
Blogging should not be your entire business model.
It's designed to be a marketing tool for your existing or future business.
Ask any big name blogger you know, and you'll quickly realize that blogging isn't a lucrative business model on its own.
Sure, there are plenty of monster blogs out there that monetize solely on display ads, but they are on the decline.
In fact, these days even monster blogs who get millions of hits and monetize via display advertising are looking for alternatives to monetize their content.
That's why the strategy that I am going to teach you in this blog has nothing to do with display advertisements, selling ad spots or sponsored posts.
The best way to monetize your blog is by selling your own stuff OR becoming an affiliate for products or programs that your audience wants and can benefit from (emphasis on the benefit part).
Here are four ways you can and should use to monetize your blog:
Add opt-in opportunities, so you can segment your email list based on their interests and sell them your products through email marketing.
Include a content upgrade. If you are new to content upgrades, they are usually a snackable piece of content that is related to your specific blog post and gets your readers on your email list by providing them more value.
Include ads to your own stuff within your blog post or in the sidebar of your blog.
Become an affiliate for other brands and create content around those affiliate products so you can link to them.
The idea is to reverse-engineer the sale and use your blog as a tool to move your prospects along in your sales funnel.
Earlier this week, I shared my favorite Facebook ads tactic, the warm up strategy and it applies to your blog as well.
Every time you create a content piece, you want to use it as an opportunity to either build your list or offer folks an introductory, low-dollar offer that feeds into your sales funnel.
What Should You Expect?
Blogging isn't an immediate cash cow you can just turn on.
You need to build an audience first, over time.
Don't just expect to throw up a few affiliate links and start monetizing.
You have to serve your audience first. Hard.
And then, make sure the products are a right fit before you go on an affiliate craze.
Take it seriously. 
The worst thing you can do when you start a blog is to neglect it. Consistency is everything in business, so make sure you stay on your game every week.
Your blog is a huge asset to your business, and you need to have that in mind when the going gets tough.
Build it, and over time you will reap the financial reward.
Over To You
Okay, so there you have it.
A straightforward blogging strategy to either get you started or get you going in the right direction.
As always, let me know if you have any questions below.
I'd love to hear your takeaways, insights, and tips in the comment section.
And don't forget to join us inside The Business Lounge for a full course all about Bloggin' For Business (and so much more). 😉
Xo,
Kim