You're ready to build a thriving online business you absolutely love
But sometimes going after your dreams can be pretty overwhelming…
It's hard to know where to even begin or what to tackle next, and as beautiful & exhilarating as the entrepreneurial journey is, let's be real…
Building an online business is no small feat.
And if you've been at it for a while you know that getting your business off the ground takes some serious grind, patience, sweat, sometimes tears and a whole lotta heart (but it's oh, so worth it).
That's exactly why we designed The Business Lounge. It's a brand new membership community for online creators who are in the trenches, making their dreams come to life on the net.
Inside you'll get access to a growing course library and a supportive community that will meet you wherever you are at in your entrepreneurial journey (and help you ditch overwhelm and loneliness forever).
Whether you are in the "ideas stage" or you've been at it for a while, we're here to will support you every step of the way.
So if you are ready to ditch overwhelm and surround yourself with like-minded online business owners to uplevel your business, you're in the right place, my friend.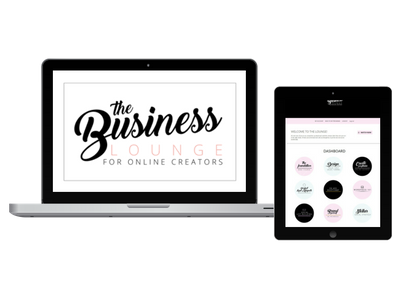 *No hidden fees. Cancel anytime.
I've been there & I get it
Here are the three core components that will make The Business Lounge an insanely valuable resource for you:
Tactical Training: Everything I teach inside The Business Lounge is tried and tested and comes from years of trial and error. We focus ONLY on the strategies that you need to learn, nothing more, nothing less.
Personalized Feedback: Whether you want to take your marketing to the next level, need help to hiring a stellar team or just need another set of eyes, I'm always a few clicks away. There's nothing more valuable than learning new strategies and having someone you trust help you implement them to match your individual business goals.
A Supportive Community: Our #1 goal is to bring together a community of kick-ass, goal digging, go-getters that will support each other and grow together.
And as part of our founding members group, you'll have a HUGE say in the way we shape and grow our community.
See, around here we are hell bent on providing you with the resources and strategies you need to uplevel your business and we're holding nothing back.
Take A Peek Inside The Business Lounge
Does running Facebook Ads ads feel overwhelming? This course will help you to implement simple, yet super effective Facebook ads campaigns so you can drive more traffic, increase your leads and boost your sales.
Learn how to effectively use blogging and content marketing to establish yourself as an authority, drive more traffic, capture more leads and convert those leads into paying customers.
Want to build your list? Learn how to use social media and content marketing to grow your email list with targeted prospects who will eventually become buyers.
Sales funnels are crucial to your online business' sucess. This brand new course will teach you exactly how to set up your first (or next) proftiable sales funnel so you can start turning leads into buyers on auto-pilot.
We just added a brand new version of Create A Kick Butt Content Calendar. We normally sell this course for $99 and now you get access to it as part of your membership to The Business Lounge, at no additional cost.
Until now, this training has only been released as part of Zilch To Social ($599 investment). Now, we are releasing it inside The Business Lounge at no extra cost to teach you how to find, vet, hire and train your first (or next) VA abroad.
This course will show you how to set monthly goals and stick with them. We'll break down the goal setting process into a framework that will help remove overwhelm and allow you move forward with a clear direction every single month.
In this course, you'll discover how to create online courses that sell like hot cakes. Inside walk you through validating your idea, creating your course material, pre-launching + teasing your course & launching it even if you have a small audience.
This is a content class we used to train our Zilch To Social students. Now we are making it available to you. Inside you'll learn how to design a content strategy and the best strategies to come up with great content ideas.
In this course, you'll learn how to select the right type of lead magnet, and brainstorm lead magnet ideas and validate them.You'll also learn how to design beautiful lead magnets, and create highly converting opt-in pages.
You know it's important to grow an email list, but what do you send your subscribers once you get them? Learn how to automate your email content, create flash sales and grow your business with email marketing.
Success is a marathon, not a sprint. Get access to the tools & resources you need along the way.
$1 Trial For 7 Days, Then Just $49/mo.
*No hidden fees. Cancel anytime.
Take A Look At What Is Coming To The Lounge Very Soon…
Curated by our early bird members, these are the courses we're developing for you. As we continue to grow, you'll be able to request additional training materials.
The Business Lounge is the right fit if you are a…
Blogger
Podcaster
Author
Expert
Coach
Consultant
… and you sell your products, programs or services online.
This membership site is tailored for online creators, so if you own an online business, everything we cover inside is designed to improve your marketing skills, help position your offerings, build a bigger audience and increase your influence.
It's not for…
Traditional business owners
Marketing & business gurus
Get rich quick seekers
Complainers
Negative Nancies
Know-it-alls
What My Students Are Saying…
Here's What You Get When You Decide To Join Us…
Become part of a supportive community
Get immediate access to our course library
Private Lounge Forum (Coming Soon)
Access To Our Resource Vault
*No hidden fees. Cancel anytime.
Can I Afford It?
Let's put things into perspective. Inside The Business Lounge, you'll get access to the resources you need to take your online business to the next level for less than…
$1.75 a day…
Your Starbucks routine…
Your gym membership…
Your cable bill…
A dinner date at Taco Bell…
And the list goes on and on, darling.
So you have two options. You can choose to keep investing your money in things that won't pay you back OR you can choose to invest that money into your online business, your dreams, your future, and your happiness and watch your dreams grow.
Got Q's? We Have A's
Do I Need To Have A Product To Make This Work?
No! If you already have a product or online course to sell, you are well on your way to getting the most out of The Business Lounge.
However, if you don't yet have something to sell, inside the community I will give you my best insights and ideas for creating monetization opportunities online.
So this program works for those with an existing product (ideally an online course, program or service) and those wanting to sell some type of coaching, consulting or online workshop to their audience.
I Sell A Service - Will This Work For Me?
If your service is sold online, then absolutely.
The Business Lounge is effective for coaches, consultants and anyone who can deliver their service or programs 100% online.
Will The Price Go Up If I Enroll Now?
Absolutely not. This is our special launch pricing and once you join us you lock in your rate for as long as you are a member.
There are no hidden fees and no surprises. The only way your membership price goes up is if you cancel your account and rejoin at a later date.
Can I Purchase My Membership Via Paypal?
Heck yes! A few weeks ago we partnered with PayPal to enable our members the convenience of using PayPal to subscribe to our membership #boom.
Do You Offer Free Trials?
Not at the moment but you have a full 30 days to try the membership site and if it's not the right fit for your business you can request a full refund by emailing us at support@kimberlyannjimenez.com
Can I Purchase My Membership Via Paypal?
Heck yes! A few weeks ago we partnered with PayPal to enable our members the convenience of using PayPal to subscribe to our membership #boom.
Can I Cancel My Account At Any Time?
Yes, you can cancel at any time and for any reason. Once you cancel your account, you will keep your access until the end of your monthly billing cycle (we don't offer partial refunds).
How Many Courses Will I Be Able To Access?
As of today, you get access to three courses right away.
Smart Facebook Ads
Social List Building
Bloggin' For Business
How Is The Training Delivered? Are They Live? Is There A Deadline?
The entire course library is waiting for you right NOW. All of our courses inside the course library are delivered via video lessons you can access at any time and at your own pace.
And if we ever deliver online trainings LIVE, we always record them so you don't have to worry about blocking out your schedule.
I Barely Have Enough Time - How Will I Find The Time To Implement Everything In The Lounge?
I know your to-do list is probably piled a mile high and the last thing I want to do is add more to your list.
But you DO have the time. What now? 
Yep. We all have the same 24 hours in a day and the whole point of this membership is to hold you accountable and provide the on-going support you need to uplevel your business.
Not to mention, all of our training courses are boiled down into bite-sized, actionable video lessons you can consume and keep track of in less than 15 minutes each.
Do I Need To Be Using WordPress To Take Advantage Of The Courses Inside The Business Lounge?
Heck no! The strategies I teach inside the lounge are not dependent on specific tools.
So if you prefer Wix or Squarespace or you hard coded your own site like an HTML champ, you can still apply everything I teach to your individual platform (unless the specific course you want to access is specifically designed to teach folks to use WordPress, in which case, it would be irrelevant to ya anyway).
Can I Purchase The Courses Separately?
Not at the moment or in the near future.
It's hard enough to start and grow a business, don't go at it alone.
$1 Trial For 7 Days, Then Just $49/mo.
*No hidden fees. Cancel anytime.