Cyber Monday: The Ultimate Productivity Bundle up to 90% OFF!
Cyber Monday: The Ultimate Productivity Bundle up to 90% OFF!
Save 90% OFF: Get 8 Courses, Workshops, & Resources
Valued At $2,349 for Just One Payment of $147!



Ready To Build An
Audience Of Buyers?
You have God-given gifts, and we exist to help you multiply them.
Each of our programs helps you create a marketing strategy so that you can grow a wildly lucrative business that attracts clients & customers consistently
as you serve with confidence. 
5 SECRETS TO CREATING IRRESISTIBLE CONTENT CONSISTENTLY
(Even If You Are Super Busy and Without Being 'On' All The Time)
Get my exact 5-Step System to nail your content creation once and for all, grow an audience of buyers (not just followers), and show up unapologetically as an entrepreneur without spending all your time glued to your devices.
I'm a marketing strategist, entrepreneur, and educator helping creators and entrepreneurs leverage profit-driven online marketing that's purposeful. #profitabilityoverpopularity
Passion, faith, and an unwavering commitment to serving you drive everything we do as a company.
And hey, around here, your success means everything to us, so I hope you find our training practical, impactful, and easy to follow.
Text 'Kim' To (866) 498-2080
& get weekly marketing videos & resources directly from me
THE BUSINESS LOUNGE
Podcast
If you're looking for practical marketing & business strategies, sprinkled in with some serious truths & funny stories about what's working now to grow a highly profitable business online, this is the show for you.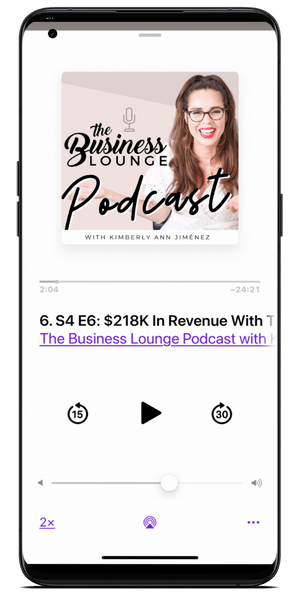 If you've been spinning your wheels piecing marketing advice from 7 different blogs, 11 YouTube channels, and 5 Podcasts with little to show for it, it's time for a change.
There's only one place on the internet where you'll learn how to design a profitable marketing plan, get real-world, proven strategies (not just theory), and build a profitable business that multiplies your gifts, serves with integrity, and is built for the long-haul.
Trust me, The Business Lounge is the program you wish you had found years ago.
FREE: Grab A Copy Of The Online Success Path For Creators, Leaders, and Entrepreneurs
profitable marketing advice for modern entrepreneurs
Get your weekly dose of profit-driven marketing, business, and life strategies to start or grow your online business, making an impact, and re-design your dream life.
With over 200+ episodes, we have you covered.
If you've ever struggled with creating content consistently, the first step in fixing that inconsistency is to know how to create a content calendar that kicks butt.
And in today's episode, we're going to arm you with everything you need to know. Plus, we have The Ultimate Content Calendar Template (it's totally free) so you know exactly how to create a content calendar that helps you stay consistent, and on top of your marketing.
So what exactly is a content calendar and why the heck do you even need one?
If you've ever wondered what to post on Instagram, ran out of blog topics, or flat out had no idea what to post on social media, (nobody has time for that), you need a content calendar in your life, my friend.
Content calendars help plan, organize, and schedule every single piece of content you publish online.
It's that content hub where all of your social media posts, your blogs, your newsletters, your videos, podcasts and your graphics strategically come together to grow your business.
So if you're reading this, I'm willing to bet you don't have a system in place to organize and repurpose your content just yet.
And that's okay! We're going to nail this together.
It's time to ditch the cycle of inconsistency with your content and learn how to create a content calendar that seriously kicks some butt.
Because here's the deal, this whole content marketing thing takes time, a lot of it. And if you're not strategically systematizing your process and squeezing your content for all it's got, you're missing out on lots of engagement, traffic, and leads.
Imagine being able to (finally) plan every piece of content that will be published online across the board for your business in advance.
Having a bird's-eye view of your content enables you to anticipate what is coming down the pipeline so you can get really strategic with the content pieces you publish and leverage your content to attract more engagement, more traffic and increase your leads.
That's what a content calendar can do for your business.
It's the first step in building the foundation of what should be your content marketing system.
So let's get into the whole process of how to create a content calendar that actually works.
HOW TO CREATE A CONTENT CALENDAR IN 5 SIMPLE STEPS
Let's get into then itty gritty of how to create a content calendar that kicks butt, cuts down your content creation time, and helps you apply a strategy behind your content.
Here's how it works…
STEP #1: SET MONTHLY & QUARTERLY GOALS BASED ON YOUR PROMOTIONAL CALENDAR
So this is the BIGGEST mistakes I see online entrepreneurs make when it comes to nailing how to create a content calendar strategically for their business.
And that's totally understandable because this whole content creation thing doesn't come with a handbook (which BTW, is why we've taught over 30,000+ small businesses how to create a content calendar system inside our course).
Instead of stressing about what to post, take a step back and analyze your promotional calendar.
Don't have a promotional calendar? No worries.
Just think about what you'd like to sell more of this month.
Do you have a new product you want to release? Need to fill one more spot in your client roster?

When are you going to be re-launching that online course? How soon do you need to start teasing your new challenge? Are there a few weeks you need to focus on list building to promote your services?
These details matter because marketing is all about building relationships while reverse-engineering the sales process.
The whole point of content marketing is to… market and sell your offers.
But so often we're just doing content without the marketing part.
Your content should deepen relationships with your readers and lead them through to the next step in their journey to becoming a customer seamlessly.
When you are clear on what you are promoting and to who, it's easier to reverse-engineer your content marketing so that everything you publish online works in unison to help you CRUSH your business goals.
But we seldom think of our content that way, do we? And it's not anyone's fault... We've been conditioned to blindly chase after the followers, the likes, the comments with zero strategy or intention. 
So pull out a piece of paper (or your handy task management tool… I love Trello & Clickup) and jot down your monthly and quarterly goals.
Here is an example…
July Goals:
1. Prep our email list for my new product launch by publishing a three-part blog series on self-esteem.
2. Grow our email list by at least 500 new subscribers by promoting my new lead magnet.
3. Promote my 1:1 life coaching services & fill out 3 new spots.
Now that you know what your goals are, you can start filling your content calendar with posts that move your followers to respond by engaging with your content, download your lead magnet, book that discovery call… etc.
For example, based on the goals we outlined together above, I would make sure to create the following posts to add to my content calendar:
#1. 3 blog posts on self esteem (research and create the titles)
#2. 2-3 posts that add value and promote each blog post on social media
#3. 1-2 emails for each blog post to send to my list
#4. 1-2 weekly posts on social media promoting my new lead magnet
#5. 3-5 emails promoting my coaching services to fill our those 3 new spots
#6. 3-5 posts (or more) promoting my coaching services on social media
#7. 10-15 posts for social media around the topic of self-esteem that add value and engage my audience directly on the feed.
Remember, this is just an example. You should expand this list if you have the resources to do so, or simplify it dramatically if you're just getting started.
The idea is just to learn how to create a content calendar with intention, a strategy, and clear goals that move your business forward so you don't get stuck in the content hamster wheel pumping out content 'because you're supposed to.'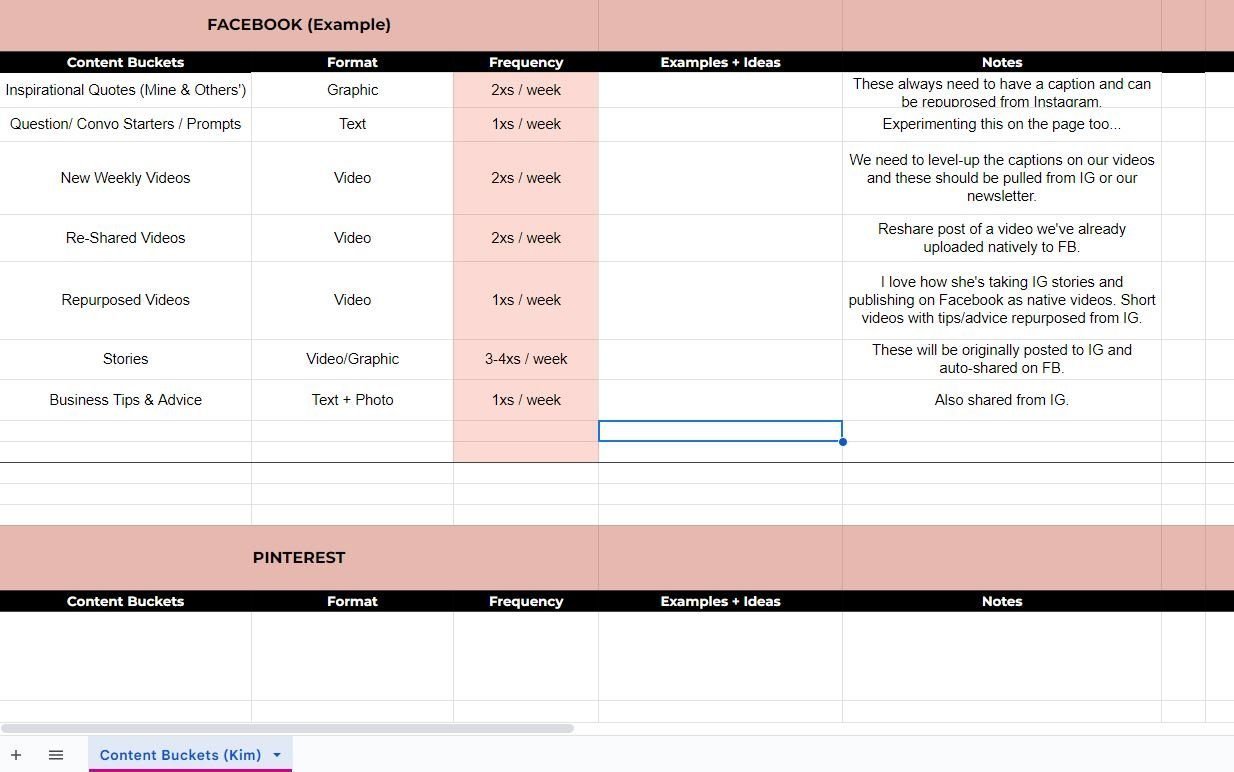 STEP #2: ORGANIZE YOUR CONTENT INTO BUCKETS OR CATEGORIES
I learned this strategy 10+ years ago when I was a social media manager it changed my life.
Creating "content buckets" (or categories) for your posts can really help you stay focused on your overall strategy but also save you tons of time when you sit down to create your content.
So here's what you do…
Figure out what kind of posts you want to create…
If the answer is 'I have no idea' check out our brand new Content Starter Kit for 90+ days of caption starters, post ideas, and a ton of templates to keep your audience at the edge of their seats, and never have to worry about what to post again.
I find it a lot easier to start with long-form, original content where you deliver massive amounts of value on a consistent basis.
Usually, your long form content falls under any of these channels: a blog, a podcast, a live video show, a newsletter or a YouTube show.
In our business, our blog is our long-form content channel and we also create YouTube videos + a Podcast to enhance our blog content and distribute it to a bigger audience (+ we send out an email to our subscribers with new content as well).
But you don't need to start with all of these (we sure didn't!). Pick a single long-form, content channel and go all in.
Once you are clear on your long form content channel, it's time to run through the same exercise and jot down your content buckets, but this time for your social media channels.
Remember, content buckets just help us group post ideas and act as blinders so we're not posting random content that isn't relevant for our business.
For example, your content buckets could be:
Blog posts
Videos
Quotes
How-to's
Behind-the-scenes posts
Figuring out what these content buckets are is simple. Go back to your social media posts and pay attention to what has been successful in the past.
Are you getting a lot of engagement when you post behind-the-scenes photos or reels on Instagram? Put "behind-the-scenes posts" on your content buckets list.
You can also look at the highest performing posts from your competitors' social media posts and get ideas of what your target market likes to engage with.
But if you're just starting out, don't be afraid to experiment and try new content buckets.
Next, figure out which long-form content topics people are already searching for.
You can use tools like Google Analytics, Ubersuggests, and SEOMoz to determine which topics get the most amount of traffic and engagement in your specific niche.
BONUS: Use Buzzsumo to figure out what specific topics in your niche or industry get shared across the web more frequently.
Have a brainstorming/research session and create a list of 20+ long-form content topics so when it's time to sit down and actually write your blogs, outline your podcast or script your videos, you don't have to waste time staring at a blank page and a ticking cursor.
Finally, create & schedule a bunch of these content buckets and long form content posts in bulk. This will not just save you time and energy, it will laser-focus your strategy.
Need a little a visual? Back to the content buckets.
Here is how I organize my own content buckets, but remember that you can create as many categories as you see fit, always keep your fans' interests and positive reactions with past content in mind.
In other words, make them your own.
MY SOCIAL MEDIA CONTENT BUCKETS
Blog Posts
If you have one (and everyone should), this is where you get to communicate with your readers and really showcase your know-how & expertise.
Remember that you always want to send your fans and followers back to your website, and get discovered through SEO (search engine optimization). Use these posts to build your traffic and grow your email list.
Inspiring Content
You know the feeling you get when you see an image quote or read an article that really hits home? Your fans and followers want to feel it too.
So share inspirational content with your fans and followers, if you think it will empower them.
Questions
These are great conversation starters.
By asking questions that are easy & fast to answer you're breaking the ice with your fans and encouraging them to converse about topics that interest them.
Tips & Tricks:
This is probably one of my personal favorites. Create short tidbits of insights, advice, or tips that can be helpful to your audience. You can start off by answering some questions you get asked the most by your current clients.
Other People's Content
It's virtually impossible to create all the content your audience is interested in all on your own (unless you're a publication) so show fellow industry leaders some love & share their content with your audience whenever you think they'll find it helpful.
This process is just content curation. You're going out there and curating some of the best content to showcase on your own social channels.
Contests & Giveaways
These can help build buzz about your products and get people talking about them. Get really creative and you'll be able to leverage contests and giveaways really efficiently.
Promos
Of course, you want to sell your product but there's an art to doing so. You should never be afraid to sell on social media, but always make sure that you've given enough free value away first.
Everything Else
This includes photos of yourself or your team, behind-the-scenes action, a photo of your cute puppy… you get the point.
I like to leave space for creativity and anything that just pops into my head and that way my content stays fresh and relevant.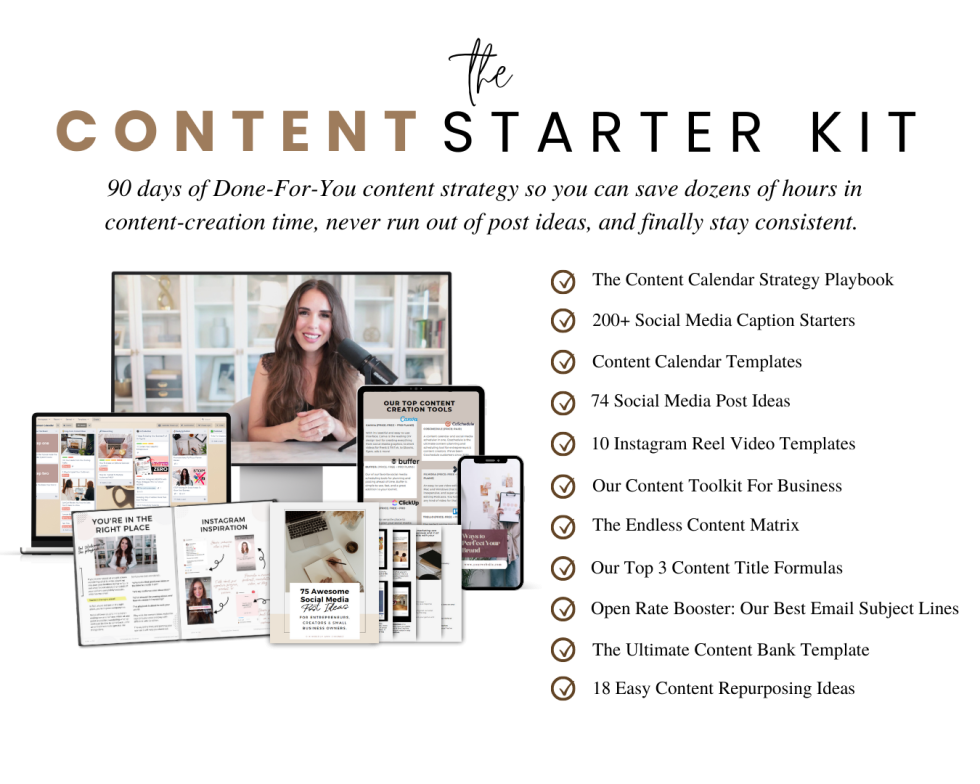 STEP #3: DETERMINE YOUR FREQUENCY
Okay, now that you have your content buckets outlined, how often should you be publishing these pieces of content?
Frequency is key in perfecting how to create a content calendar for your business. So for your long-form-content channel, I recommend publishing at least once per week. That's a great starting point.
That's, one new blog post, YouTube video or Podcast. If once per week just feels like too much, start with 2 per month and work your way up.
As your long-form channels grow, and you get better at cutting down your creation time, you can experiment with a higher frequency.
But in my experience, 1-2 original content pieces per week is a fantastic start.
What about social platforms? How often should you post on those?
That's really gonna depend on the channels you publish your content on.
I touched on this topic in a previous blog, so just to recap, here is a good rule of thumb in terms of the total amounts of posts you should be scheduling each week:
Facebook: 1-3 times per day (sometimes more often if you have a worldwide audience).
Twitter: 6-10 times per day (sometimes more often if it works for you).
Pinterest: 3-10 times per day (you don't want to overdo it with your followers).
Instagram: 4-7 times per week on the feed, daily in stories.
TikTok: 1-4 times per day
Telegram: 1 time per day (play with the frequency).
LinkedIn: 1-2 time per day (you can increase, but test the frequency)
YouTube: Weekly or more often if you can.
Blog: Weekly or more often if you can.
Podcast: Weekly or more often if you can.
Here are some tips you can use to plan out the frequency of your content.
Stagger your posts so your content stays fresh and varied.
For every self-serving post, make sure there's another post that delivers amazing value.
Experiment. With time, you'll figure out the frequency that works best for you.
STEP #4: CHOOSE YOUR FAVORITE TOOL
Are you starting to see why understanding how to create a content calendar that's strategic, and keeps your audience front and center is so key for nailing your content marketing?
I hope so!
Now that you are ready to create a content calendar system for planning, creating and publishing epic content everywhere, it's time to get to the tool part (my favorite!).
Choosing the right content calendar tool for you really comes down to preference and functionality (aka use what works for you, homie!)
If you're a little old school and you love managing your tasks on paper, then reach out for your favorite content calendar. Although, honestly, I don't recommend it long-term because content requires a lot of touch points and it's hard to keep track of them on a physical tool.
This tool is the bomb.com.
Personally, it would be very hard to go back to any other publishing tool because CoSchedule just makes this content calendar thing easy-peasy.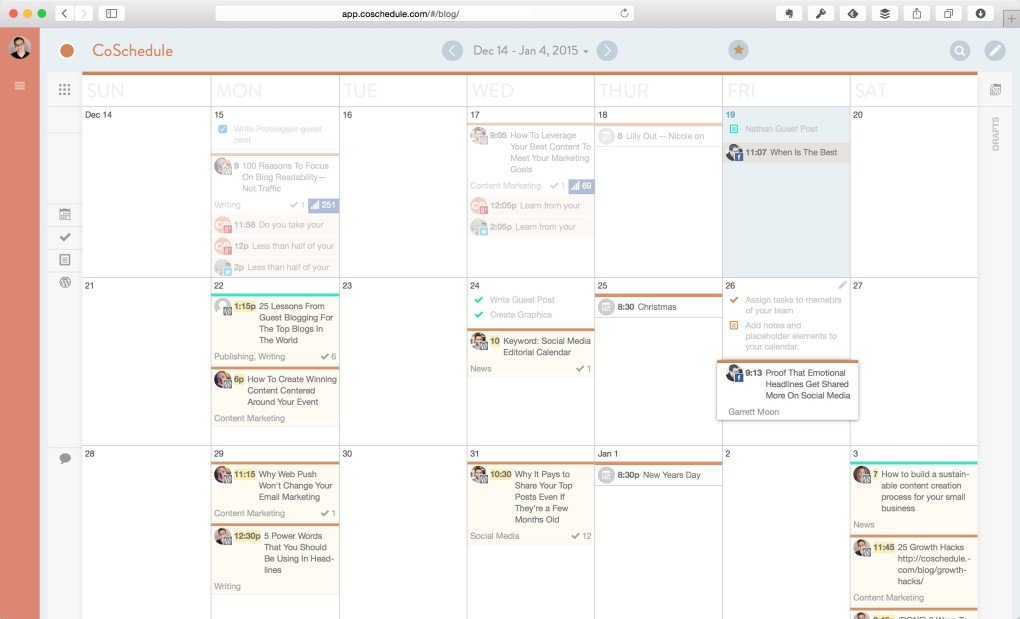 Why do I love it so much? CoSchedule brings together your long-form ting content and your social media posts under one roof. Not only can you publish your blog and social media content using this tool, you can actually plan and edit your newsletters, video scripts, podcast episodes and more.
Plus, their drag-and-drop features make it extra easy to plan, organize and schedule all of your content in advance.
Did I mention they have a dope WordPress plugin? It integrates seamlessly to help automate your blog publishing process.
But you don't need WordPress to use it, which is a beautiful thing.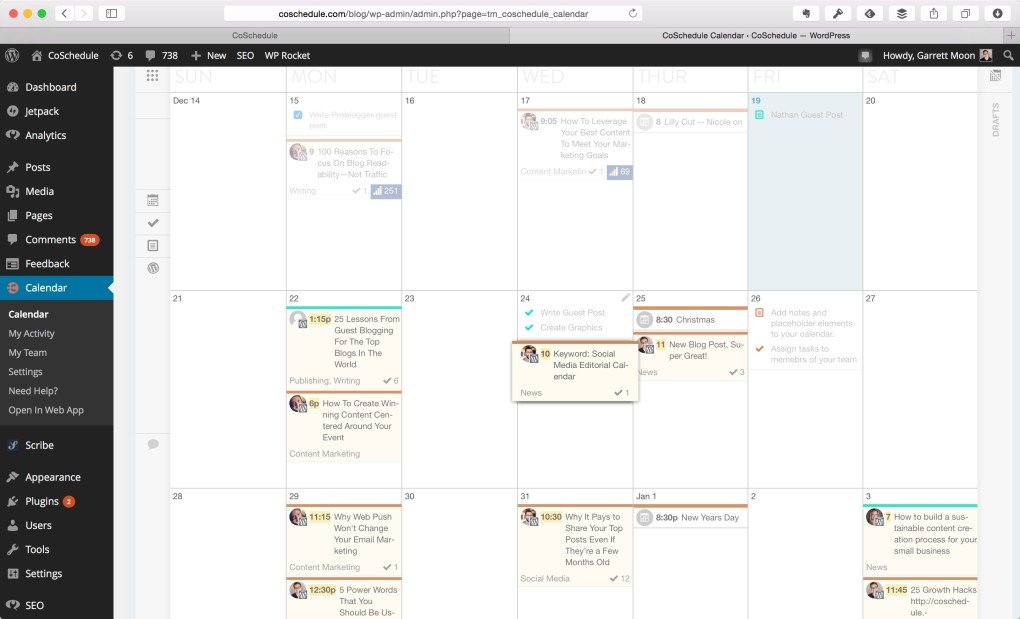 I am obsessed with this tool and my team uses it on the daily to do the following:
Plan for and schedule my blogs in advance.
Schedule and publish content to Facebook, Instagram, Pinterest & more.
Collaborate with my team.
Keep my video shoots organized.
And so much more…
If you want to learn a little bit more about CoSchedule, I have an entire video episode on this blog post that walks you thorugh it.
Trello rocks. It's designed to be a task management site, but it's so versatile, it can function as pretty much anything.
From content calendars to wedding planning, you can pretty much do it all on Trello (at least I have).
Easily manage your entire content/editorial calendar on Trello or just choose to plan your social media content.
Now, the major disclaimer: Trello won't push out your content (meaning actually publish it), unless you've synced trigger based app like Zapier or IFTTT. And we developed custom done-for-you recipes that help you push your content from Trello to your favorite content scheduling tool in one click inside The Content Calendar System course.
One of my favorite features about Trello is that it has a built-in calendar so you can see all of your content at a glance.
Take a look at individual cards. You get to add copy, attach images & files plus add checklists, assign users and engage with team members to discuss details.
The labels are also fantastic if you're visual like me. I love color coding my posts like a total maniac.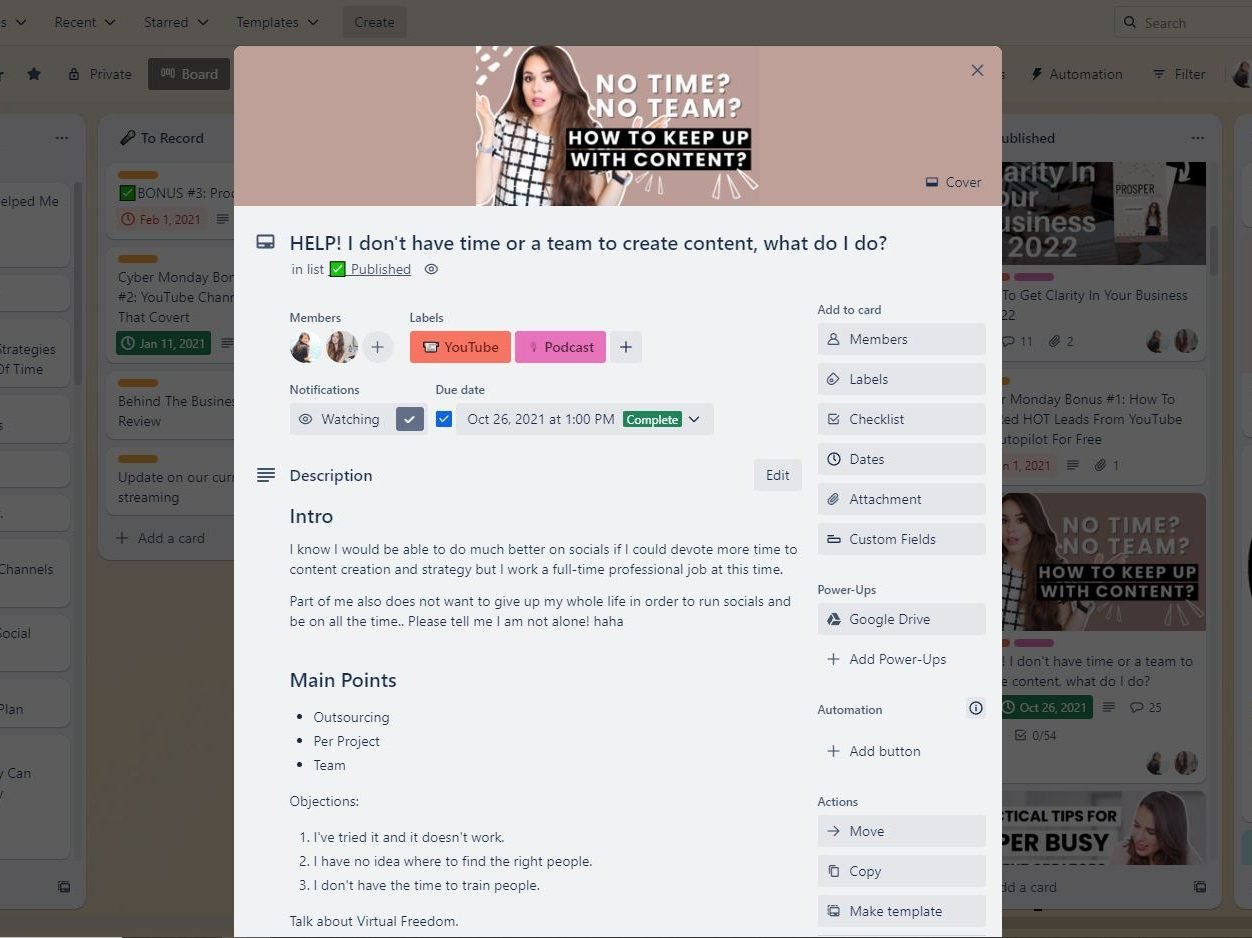 Trello, of course, also integrates with various tools like Google Calendar. Which leads me to my next tool…
Google calendars are free and absolutely functional when it comes to creating your content calendar.
Although there aren't as many features included, it's a great alternative.
Simply create a new event for each content piece and color code them. You can also attach images and files to individual events if need be.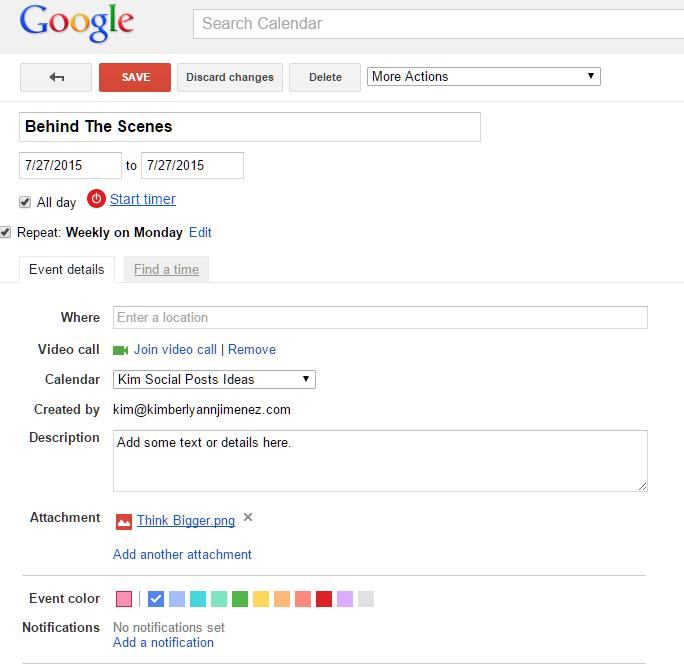 One feature I like is being able to create several calendars to categorize content types. For example, you could have a separate calendar for blog posts or Facebook content.
Then, you filter off the view to only see specific content categories or see everything that is scheduled at once, which is fantastic.
Of course, Google Cals are not designed to publish your content, but with a little configuration from our good friends at Zapier and IFTTT anything is possible.
The perfect way to stay organized with a simple, but powerful content calendar. I love Google Spreadsheets (or any spreadsheet) because they're simple enough to get the job done quickly and you don't always need an internet conenction to access them.
That's why our newest version of The Ultimate Content Calendar Template is an interactive spreadsheet you can customize yourself (and we you can even use it in Excel or Numbers).
We've been ClickUp fanatics for a while now, and it's what we're currently using to plan all of our content. We've grown quite a lot the past two years, and we needed way more functionality than what Trello could offer to create a hyper-dynamic advanced content calendar and productivity workflow.
I love we can organize our posts in almost infinite ways with their Airtable-like table view, add tags, write captions, and collaborate on each post as a team seamlessly.
Their calendar view is pretty slick too, and if you prefer lists, they have that too. ClickUp has so many views it's absurd, and with integrated automations, built-in docs, and a litany of advanced features, it's the tool I recommend most often for folks who have a team.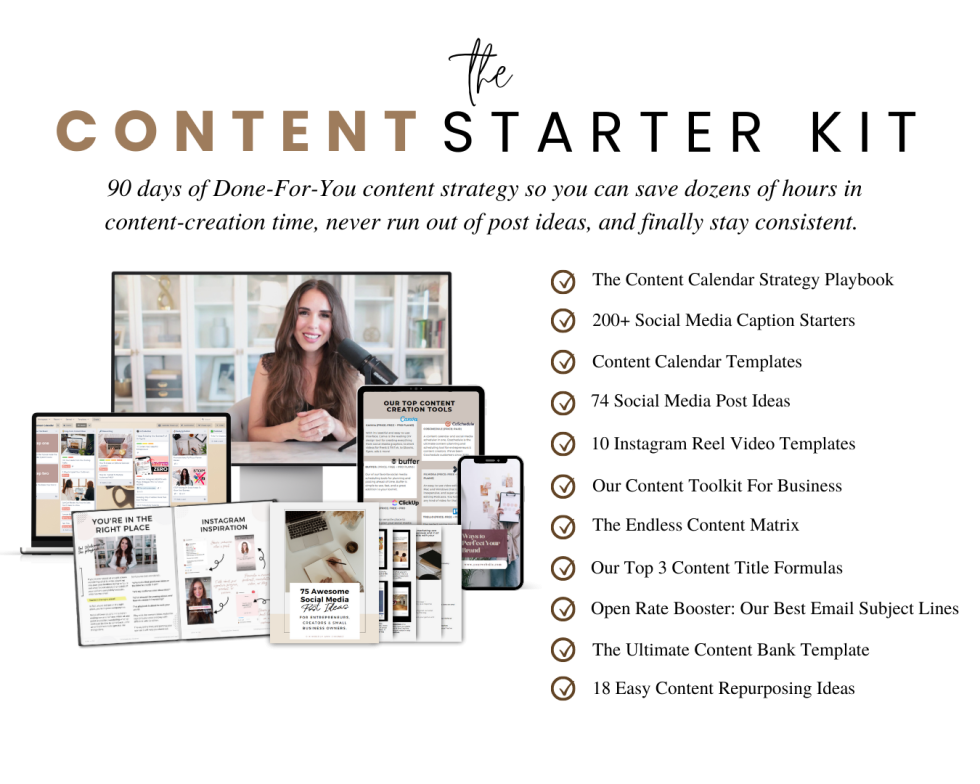 STEP #5: CREATE YOUR CONTENT CALENDAR
Okay, superstar. You're prepped to start scheduling content in your shiny new content calendar systematically.
Start by importing your long-form content pieces (blog posts, podcasts, etc.) that will set the theme and the tone for the rest of your content (aka newsletters & social media posts).
This is where you can really get creative and do some research (hello SEO + Pinterest + YouTube optimization).
So once you have your long-form content pieces laid out, it's time to add in your supplemental content pieces (lead magnets, content upgrades, newsletters, etc.).
And finally, add in your social media content.
I like to create content for one channel at a time so I don't feel overwhelmed. These days my team does all of my social media scheduling, but we still use this same format to leverage our time, energy and get the most bank for our content marketing buck (so to speak).
Bonus: Steal My Content Calendar Template
So you have your content buckets figured out for your social media posts and your content calendar set; it's time to look at your social promotion strategy.
In other words, let's figure out how to get the most bang for your buck when it comes to promoting your blog content on social media.
By now I hope you know you shouldn't just publish your content once on social media and then forget about it. It ain't gonna work.
You gotta have a solid content promotion schedule if you want to get the most amount of eyeballs on your awesome content.
So here is the schedule I use: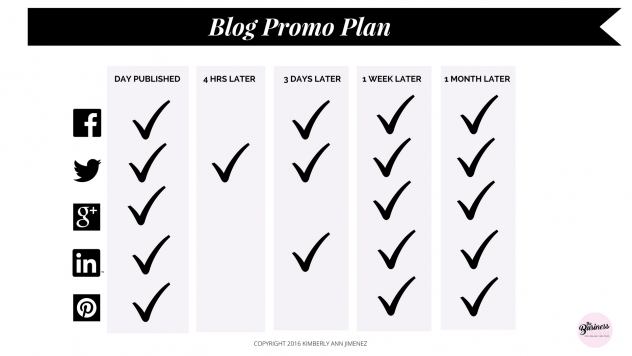 OVER TO YOU
So there you have it. How to create a content calendar that kicks butt!
I can't wait to hear how you set up your own content calendar, so leave a comment below and let me know if you have questions.
See you in the comments section!
Xx,
Kim
"Return on my investment in one week, seriously! After finishing Module 1, I took what I learned and put it into action. I got two new clients right after that!"
ELIZABETH MARTINEZ | PR SPECIALIST
"The Business Lounge is one of the BEST investments
I've made in my business."
MONIKA TOVEZ | ONLINE BOUTIQUE COACH
"The course's worth truly is immeasurable. It's the best gift you can give yourself as an entrepreneur."
YEIRA CALDERON | FOUNDER SOCIAL WAVE
"My girl, like literally, this Zero To Social course is what I've been wanting for the past 6 months in my business. I am BLOWN away. You have EVERYTHING someone needs to really create a social media strategy and a social media-based business."
CLARISSA RODRIGUEZ | FOUNDER ROCK AT COLLEGE