Level Up Your Marketing, Sell More & Make A Bigger Impact
We help modern entrepreneurs build profitable businesses using proven online marketing strategies, without compromising their faith, family, or freedom.
proven marketing training
Ready To Finally Master
Online MArketing?
You have God-given gifts, and we exist to help you serve and multiply them.
Each of our programs will show you how to show up online as an entrepreneur, not just an influencer. Create a marketing strategy that helps you get profitable, not just popular, and grow a wildly lucrative business that attracts clients & customers consistently as you serve with confidence. 
Marketing is overwhelming, let's make it easy…
Invest Time Nailing Your Productivity,
Not Your Trello Boards
THE CONTENT CALENDAR SYSTEM 2.0
Plan, Create & Organize Your Content
(Once And For All)
Level Up Your Branding Game
FREE CLASS: Ready To Go From Overwhelmed & Burntout To Monetizing Your Content?
Whether you have a blog, a podcast, a video show (or are thinking of startig one), these are the 4 steps you should be taking right now that no one talks about to start selling seamlessly on your own platform (your website).
Plus, it's censorship-free and a surefire way to build a loyal audience of buyers, not just followers. Take the free, on-demand class now!
I'm a marketing strategist, entrepreneur, and educator helping creators and entrepreneurs leverage profit-driven online marketing that's purposeful. #profitabilityoverpopularity
Passion, faith, and an unwavering commitment to serving you drive everything we do as a company.
And hey, around here, your success means everything to us, so I hope you find our training practical, impactful, and easy to follow.
Text 'Kim' To (866) 498-2080
& get weekly marketing videos & resources directly from me
If you're looking for practical marketing & business advice, sprinkled in with some serious truths about growing a highly profitable and online business through a season of chaos, you'll love the show.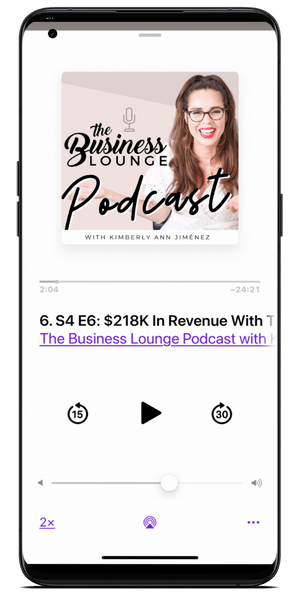 If you've been spinning your wheels piecing marketing advice from 7 different blogs, 11 YouTube channels, and 5 Podcasts with little to show for it, it's time for a change.
There's only one place on the internet where you'll learn how to design a profitable marketing plan, get real-world, proven strategies (not just theory), and build a profitable business that multiplies your gifts, serves with integrity, and is built for the long-haul.
Trust me, The Business Lounge is the program you wish you had found years ago.
profitable marketing advice for modern entrepreneurs
Get your weekly dose of profit-driven marketing, business, and life strategies to start or grow your online business, making an impact, and re-design your dream life.
With over 200+ episodes, we have you covered.
Top 3 Reasons You Should Create
Long-Form Content That SELLS
Kimberly Ann Jimenez,
Digital Strategist & Founder
Have you noticed what most online business leaders have in common with their content strategy?
If you said, 'they're on Instagram!' or 'they have a big following' you'd be right, but there's something far more important that helps them establish authority, build trust, and close sales seamlessly…
If the title of this episode hasn't clued you in yet… that special 'something' is they all create long-form content.
The unsexy, unshiny, but yet highly profitable side of content marketing that makes the likes of Gary Vee, Joe Rogan and Jordan Peterson mainstream authority figures in their space.
For whatever reason, I've noticed that MOST online entrepreneurs are ALL IN posting on social media, but when it comes to creating blogs, podcasts, or videos (aka long-form content), it's… crickets.
Humans are funny in that way, aren't we?
I hear things like,
"I don't have time to write a blog."
"I don't have time to record a podcast." or
"I don't have time to shoot a video."
Yet, you're on Instagram stories all day long…
Posting 'dancy-pointy' videos on TikTok…
Or churning out these VERY long Instagram captions…
So… what do you mean you don't have time to do blogs or videos?
You're basically microblogging on social media with Instagram and creating the equivalent of a YouTube video with your 4-7 TikToks or reels every week. 
It's not surprising though… is it?
Even though long-form, content builds insane authority, radically deepens the relationship with your audience, and helps you SELL more than social ever can… we're just not addicted to it as we are social.
To make things even more interesting, we love to consume long-form content from our favorite business leaders like Dave & Rachel Ramsey, Jennifer Allwood, Michael Hyatt, Marie Forleo, and so many more…
So why aren't we creating it with the same excitement we do social media content?
Let's do something about that, because if you're NOT creating long-form content, you're absolutely missing out on an insane amount of leads & sales, not to mention tremendous opportunities to collaborate, get discovered, receive PR, etc…
Shoot, even Gary Vee, the King of social media, will tell you to create 'pillar content' FIRST (pillar content = long form content).
So, in this episode, I hope I'll persuade you to jump into the ultra-exciting & profitable world of long-for content! Spoiler alert, you'll learn how it will naturally improve your social media content too! #bonus
Let's dive in!
When we're talking about creating long-form content, the most popular are these three core formats.
✅ Text = Blogs
✅ Audio = Podcasts
✅ Video = YouTube / Alternative Video Hosts
Before you freak out, please know you don't need to do all three. Just want to pick one that's going to be your primary, and over time, if you want to build in more, you can.
For example, on this blog you're reading, we've embedded our podcast episode which we syndicate to dozens of platforms, and the video version of the show will end up living in our own dedicated video host or, occasionally, on YouTube.
But we didn't start there and you don't have to either. One long-form medium is more than enough.
So which one should you pick?
Here are three questions to ask yourself:
1. What are you naturally good at? Or are willing to learn?
2. What channel can you be consistent with?
3. What mediums do your ideal clients consume content in?
I started with video because it's what I enjoy creating most and how I feel most connected with my tribe, so we started a YouTube channel way back when.
I knew my people were on YouTube but that they also listened and loved podcasts.
So when the team and I explored adding podcasts into the mix, we quickly realized it came even more effortlessly than video for me, and The Business Lounge Podcast was born.
Now, writing isn't my thing. Especially in English (being that this is my second language).
But blogs are a non-negotiable for me because I still want to leverage the search engine optimization for my site. So, I have my content manager transcribe these episodes into a blog format (which I polish & tweak).
You might go with a podcast and publish it to your site in a short blog format.
Or you might LOVE writing and only publish a blog. There's really no wrong or right answer here.
There's only what you'll stay consistent with and what you place a strategy behind.
Now, let's get into the good stuff! All the marketing benefits of publishing long-form content.
#1 IT MAKES IT EASIER TO CREATE MICROCONTENT
Creating long-form content offers so much on it's own, but there's the serious added benefit that it makes creating social media posts an absolute breeze.
By splicing your videos, or podcasts, and even pulling excerpts from your blogs and turning those into micro-content pieces, you're saving yourself HOURS of work on social.
And listen, this a former social media manager speaking… Creating social media content is so much easier when your content strategy includes creating long-form, content first.
For example, you can splice our YouTube videos and post them as Stories, as Reels, or as TikTok videos.
Or do the same thing with the audio by cutting a clip of the audio as a teaser and posting it as stories, or post it as idea pins on Pinterest.
Or you can also create carousels or graphics from your blogs and post them on Instagram posts or Facebook. 
So instead of always coming up with brand new ideas for posts on social media, we are repurposing what we are already doing with our long-form content. 
#2 BUILDS TRUST & AUTHORITY
This one is one of my favorites because when done right, it leads directly to sales.
It's the ever-popular concept of show, don't tell.
We have to realize that most consumers on the internet are weirded out because they're going to do business with strangers on the internet.
So if you understand that whether your ideal clients are aware of this objection or not, it's your job to overcome the objection. And there are few better ways to warm them up, put their concerns at ease, and build a strong bond than long-form content to help win the sale.
I'll demonstrate this right now.
Many of you listening or reading this episode will find what I have to say compelling enough to want more. And you'll enroll in our one of our most popular content marketing course, The Content Calendar System, join the waitlist for our marketing academy, The Business Lounge, or apply for our high-level coaching program, TBL Coaching.
Remember, you want to show people you can solve their problems or help them achieve a specific result.
Show… don't just tell. And that's the magic of long-form content.
And while you can partially achieve this in a micro-post on TikTok, for example, there isn't enough time in a 3-minute video, or a 140 character tweet to show off what you can do.
Only a tiny percentage (less than 5%) of your market will decide to buy right after reading one of your Instagram posts.
So if you're struggling to book more clients, get more discovery calls, sell more of your courses, or have people join your membership, it's likely because you're missing the mark with your long-form, content, or you don't have long-form content at all.
So if you want to build the type of trust, likability, and authority that leads to sales, long-form content is a must.
Whether you're selling information, actual services, or physical products, having that long-form content is so important.
And brands that get this are crushing it.
#3 IT GIVES YOU THE OPPORTUNITY TO SELL
Seriously.
If you've listened to the Joe Rogan Experience podcast, you know there's at least 3 ad spots (if not more) per show.
It's the same concept you see in radio, or Television ads.
You create long-form content, in their case in the form of a show, or a movie, and you put ads on it.
Except, in this case, you're producing the content and advertising your own products.
Simultaneously, you're giving away tremendous value, and building that relationship while giving your readers, listeners, or viewers the opportunity to do business with you (or not).
Because you've educated people, and because you've added value to their lives, you get to feature and pitch your products, programs, or services.
So whether that's directly linking to your products on your blog, talking about promo spots on your YouTube video, or your podcast… Long-form content gives you the opportunity to sell seamlessly.
So I hope that this episode has your wheels turning to create long-form content or leverage what you're already producing more efficiently.
Let me know if it has in the comments below!
And if you want me to do part two on how to use your long-form content in your sales strategy and leverage it to its full potential, let me know in the comments below too or DM me on Instagram @kimannjimenez.
I would love to hear from you!
Because we want to make things actionable and practical for you here. 
And hey, if you're ready to take your business to the next level, don't forget to hop on the waitlist to join The Business Lounge, and dive deeper to learn how to start an online business — build a brand that fulfills you, helps you make a real difference all while being wildly profitable.
I hope you enjoyed this episode!
Don't forget to go all in. God has put you on this earth to serve others, multiply your gifts, and reach your full potential. Honor that gift.
We're rooting for you. 
I'll see you in the next episode. 
Un beso! Bye for now.
xx,
Kim❤️
Join The Business Lounge!
Master Online Marketing, Turn Followers Into Buyers, & Increase Your Income…  
(All without feeling confused + overwhelmed trying
to figure out what to work on next).
"Return on my investment in one week, seriously! After finishing Module 1, I took what I learned and put it into action. I got two new clients right after that!"
ELIZABETH MARTINEZ | PR SPECIALIST
"The Business Lounge is one of the BEST investments
I've made in my business."
MONIKA TOVEZ | ONLINE BOUTIQUE COACH
"The course's worth truly is immeasurable. It's the best gift you can give yourself as an entrepreneur."
YEIRA CALDERON | FOUNDER SOCIAL WAVE
"My girl, like literally, this Zero To Social course is what I've been wanting for the past 6 months in my business. I am BLOWN away. You have EVERYTHING someone needs to really create a social media strategy and a social media-based business."
CLARISSA RODRIGUEZ | FOUNDER ROCK AT COLLEGE