Level Up Your Marketing, Build An Audience of Buyers & Make A Bigger Impact
We help entrepreneurs build profitable businesses using proven content marketing strategies, even if they have busy lives and without compromising their time freedom, family life, or faith values.
Ready To Finally Master
Online Marketing?
You have God-given gifts, and we exist to help you serve and multiply them.
Each of our programs will show you how to show up online as an entrepreneur, not just an influencer. Create a marketing strategy that helps you get profitable, not just popular, and grow a wildly lucrative business that attracts clients & customers consistently as you serve with confidence. 
5 SECRETS TO CREATING IRRESISTIBLE CONTENT CONSISTENTLY
(Even If You Are Super Busy and Without Being 'On' All The Time)
Get my exact 5-Step System to nail your content creation once and for all, grow an audience of buyers (not just followers), and show up unapologetically as an entrepreneur without spending all your time glued to your devices.
I'm a marketing strategist, entrepreneur, and educator helping creators and entrepreneurs leverage profit-driven online marketing that's purposeful. #profitabilityoverpopularity
Passion, faith, and an unwavering commitment to serving you drive everything we do as a company.
And hey, around here, your success means everything to us, so I hope you find our training practical, impactful, and easy to follow.
Text 'Kim' To (866) 498-2080
& get weekly marketing videos & resources directly from me
If you're looking for practical marketing & business advice, sprinkled in with some serious truths about growing a highly profitable and online business through a season of chaos, you'll love the show.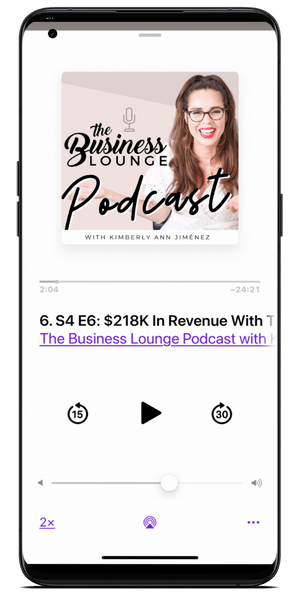 If you've been spinning your wheels piecing marketing advice from 7 different blogs, 11 YouTube channels, and 5 Podcasts with little to show for it, it's time for a change.
There's only one place on the internet where you'll learn how to design a profitable marketing plan, get real-world, proven strategies (not just theory), and build a profitable business that multiplies your gifts, serves with integrity, and is built for the long-haul.
Trust me, The Business Lounge is the program you wish you had found years ago.
profitable marketing advice for modern entrepreneurs
Get your weekly dose of profit-driven marketing, business, and life strategies to start or grow your online business, making an impact, and re-design your dream life.
With over 200+ episodes, we have you covered.
Planning The New Year –
Why I'm Setting Goals In February…
Kimberly Ann Jimenez,
Digital Strategist & Founder
Have you planned and set your goals for the year already? 
Or did you miss the chance to set your goals in January so you're thinking of maybe doing it next year?
So January was a pretty intense month for us.
We just wrapped up our Live Funnels Bootcamp. It's an all-day event that we host for eight plus hours with a small intimate group of entrepreneurs that want to focus on leveling up a specific area in their marketing.
So January was kind of a dual purpose for us. It's a lot of planning, strategizing and execution for the live bootcamp. As well as resting up from the holidays.
And so we decided we made an executive decision that we are going to go ahead and treat the month of February like the month of January.
We will do what we normally do in January, which in our case is having our yearly planning retreat that we've been doing since 2016, in the month of February.
So if you're in the same place, I hope that this episode inspires you that you can still set your plans and goals for the year even if it's already in the month of February, March, etc.
So today, I'm gonna give you a little behind the scenes of how we deal with uncertainty in the business, things that pivot and how we adapt as we plan for the new year.
And so, if you haven't set your goals yet, and even if you have already, this episode will help you deal with what comes out of you when it comes to life and business and how to course correct appropriately.
Let's get into it.
Join The Business Lounge!
Master Online Marketing, Turn Followers Into Buyers, & Increase Your Income…  
(All without feeling confused + overwhelmed trying
to figure out what to work on next).
"Return on my investment in one week, seriously! After finishing Module 1, I took what I learned and put it into action. I got two new clients right after that!"
ELIZABETH MARTINEZ | PR SPECIALIST
"The Business Lounge is one of the BEST investments
I've made in my business."
MONIKA TOVEZ | ONLINE BOUTIQUE COACH
"The course's worth truly is immeasurable. It's the best gift you can give yourself as an entrepreneur."
YEIRA CALDERON | FOUNDER SOCIAL WAVE
"My girl, like literally, this Zero To Social course is what I've been wanting for the past 6 months in my business. I am BLOWN away. You have EVERYTHING someone needs to really create a social media strategy and a social media-based business."
CLARISSA RODRIGUEZ | FOUNDER ROCK AT COLLEGE