Ready To Finally Master
Online Marketing?
You have God-given gifts, and we exist to help you serve and multiply them.
Each of our programs will show you how to show up online as an entrepreneur, not just an influencer. Create a marketing strategy that helps you get profitable, not just popular, and grow a wildly lucrative business that attracts clients & customers consistently as you serve with confidence. 
5 SECRETS TO CREATING IRRESISTIBLE CONTENT CONSISTENTLY
(Even If You Are Super Busy and Without Being 'On' All The Time)
Get my exact 5-Step System to nail your content creation once and for all, grow an audience of buyers (not just followers), and show up unapologetically as an entrepreneur without spending all your time glued to your devices.
I'm a marketing strategist, entrepreneur, and educator helping creators and entrepreneurs leverage profit-driven online marketing that's purposeful. #profitabilityoverpopularity
Passion, faith, and an unwavering commitment to serving you drive everything we do as a company.
And hey, around here, your success means everything to us, so I hope you find our training practical, impactful, and easy to follow.
Text 'Kim' To (866) 498-2080
& get weekly marketing videos & resources directly from me
If you're looking for practical marketing & business advice, sprinkled in with some serious truths about growing a highly profitable and online business through a season of chaos, you'll love the show.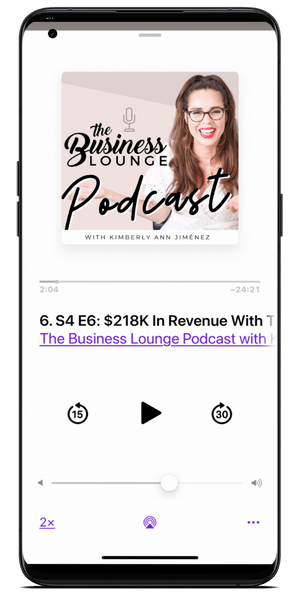 If you've been spinning your wheels piecing marketing advice from 7 different blogs, 11 YouTube channels, and 5 Podcasts with little to show for it, it's time for a change.
There's only one place on the internet where you'll learn how to design a profitable marketing plan, get real-world, proven strategies (not just theory), and build a profitable business that multiplies your gifts, serves with integrity, and is built for the long-haul.
Trust me, The Business Lounge is the program you wish you had found years ago.
profitable marketing advice for modern entrepreneurs
Get your weekly dose of profit-driven marketing, business, and life strategies to start or grow your online business, making an impact, and re-design your dream life.
With over 200+ episodes, we have you covered.
3 Must-Have Content Hacks
To Stay Consistent Even When
You're SUPER Busy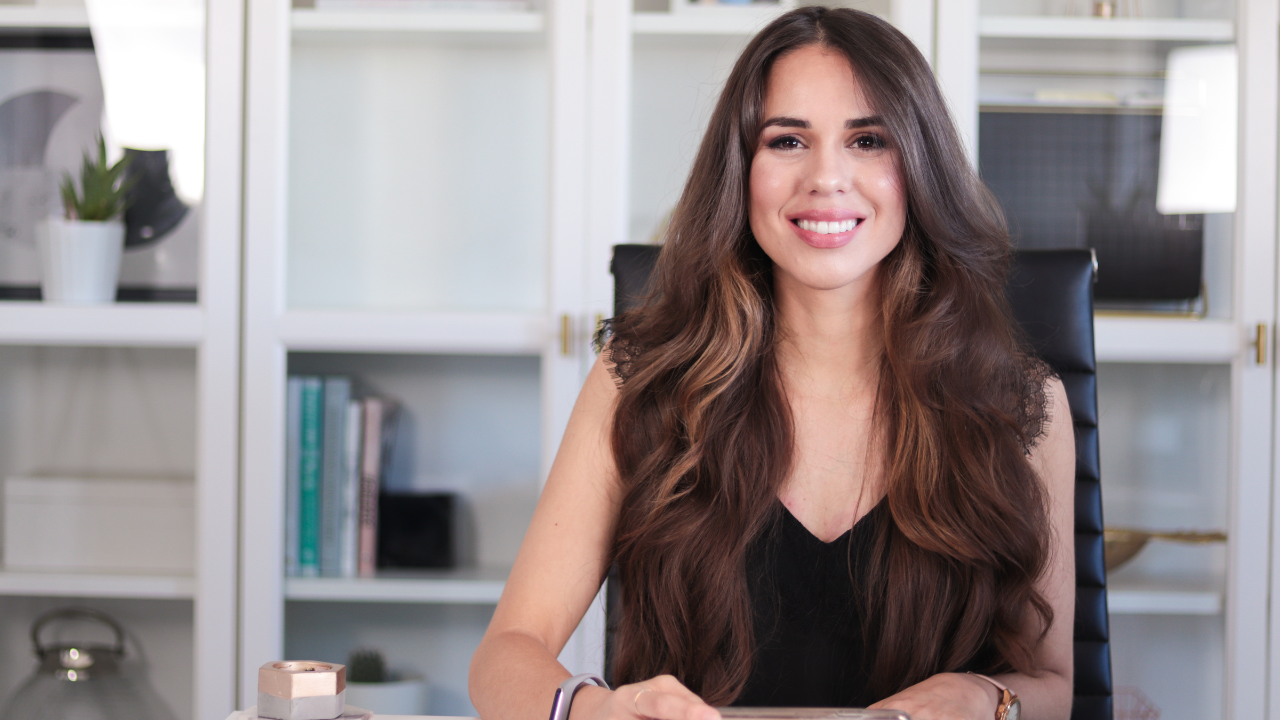 Kimberly Ann Jimenez,
Digital Strategist & Founder
At least a couple times per week someone pops into my DM's, or inbox with a question that sounds like this…
"Kim, I'm spending so much time on content creation that I can't seem to stay consistent… what am I doing wrong?"
Well, friend, if you can relate, this episode is for you because today I'm sharing 3 ways you can be more consistent with content creation without feeling like you're always running around in circles or starting and stopping a bunch of times. 
Let's get into.
So let's dive right in with the strategies.
#1 Create content that
you can stick with
Let's say that you think you have to start a blog, but you absolutely hate writing.
So you struggle to get content out there hoping you'll get 'used to it.'
And while that's not impossible, if you hate writing, whether that's writing a blog, or creating long Instagram captions, or creating content for a medium that is text heavy, and you hate it, it's probably NOT the thing for you and you're probably not going to stick with it.
The same goes for videos and audio.
So you want to find a medium that you can stick to and that your audience enjoys consuming.
I know that can be a little challenging, but I want to encourage you to find something that you're good at and all you need is to sit and dominate one format, one platform and do it really, really well.
What is that content medium that you can stick to?
What is that content medium that you can learn to enjoy so that you can stick to it?
Is that content medium the right place for your audience?
And so you want to play with that.
But ideally, if you want to stay consistent with your content, you have to do the format that you actually enjoy. Otherwise, it's just not going to happen, my friend.
So you want to find your thing and realize that as you get more comfortable with it, you're gonna make it your own. Consistency starts with a form that you can stick to.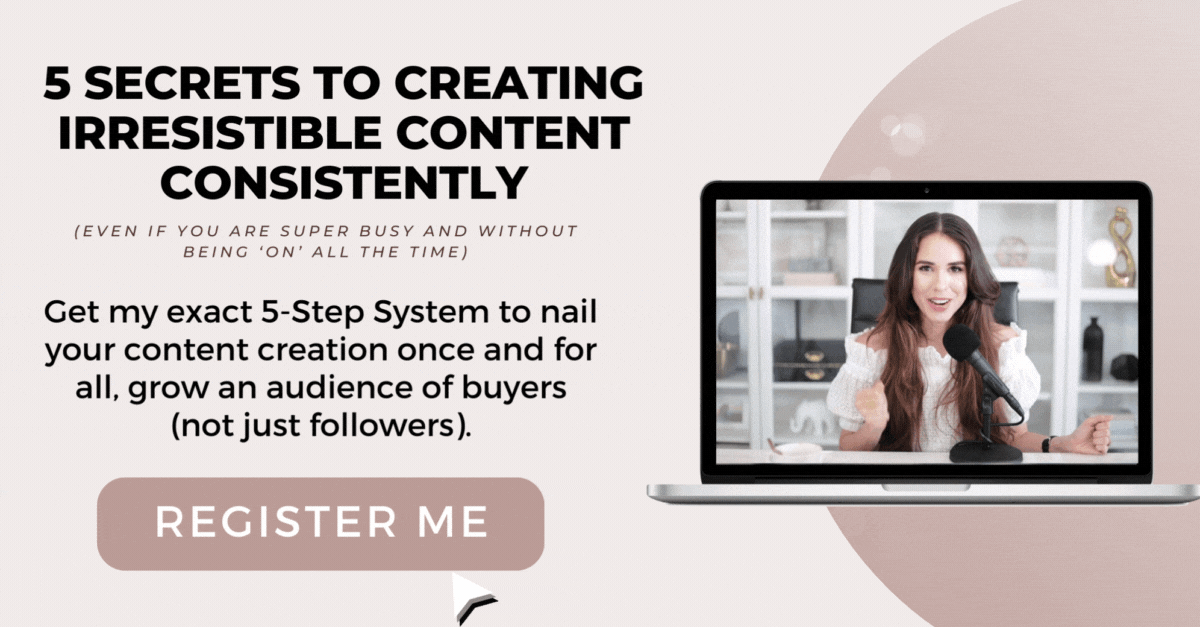 #2 Tighten up your content creation workflow
This means that you actually pay attention to the amount of time that you're spending creating your content.
Chris, my amazing business partner, developed a process called the PADE method. 
And we take a lot of our coaching clients through this method, where they're tracking what they're doing every single day, and every single task gets assigned with a particular time.
I. You want to time yourself. 
How much time are you spending writing the blog? 
How much time are you spending creating graphics?,
How much time are you spending filming the video? 
How much time are you spending creating smaller content pieces? 
Take inventory of your time spent. That's basically how it works.
II. Always be thinking: How can you save time in creating your content next time? 
How can you save time with your current workflow?
How can you record, film, or write faster?
I cannot tell you, as a former social media manager, how overwhelming it was for me to handle multiple clients at once, and to have to produce long form and short form content.
It was a lot! So I'll always be thinking, how can I save some time?
III. Create templates
Do you have a graphic template to create your blog graphics?
Do you have a blog template saved on your WordPress site that you can just pop in?
Do you have a YouTube description template or email newsletter template?
Creating templates saves you a lot of time so you're not creating new graphics, new podcast outlines from scratch, new captions, new stories every time.
It doesn't mean that you're going to send the same content, and it'd be repetitive, but this way you don't need to start from scratch with every asset and it'll help you save a ton of time.
And you can do the same thing with micro content.
It can be pretty intense to go out content creation on your own. And of course, you want to be smart about how you go about bringing on help.
I had already hired myself, so I was working full time in my business. And if you haven't hired yourself yet, then you can totally just outsource on websites like Fiverr and on Upwork. Start with small tasks. I started doing that before I hired a full-time editor.
And so that allowed me to spend more time building courses, servicing clients, creating programs, leveling up my marketing strategy, and creating more content so that I wouldn't be stuck editing for 15 hours a video that took me an hour to film.
Chris and I spend less than two hours a week in content creation, and we run three podcasts now, we run two YouTube channels, four combined Instagram accounts, we have Facebook pages, Telegram, Pinterest, and a lot of platforms, and we only spend that amount of time because we have positioned ourselves to be the talent in our business, instead of trying to do everything ourselves. And that's a process.
And so, I just want to give you a model and something to look forward to so that you don't have to feel the pressure of being all the things in your business.
And that's exactly what I'm teaching you in this brand new content class. I want you to start thinking smarter. There's a reason why we named that Smart Content Class.
Entrepreneurs are trying to do too much. We just have too much on our shoulders and it's a lot.
So for entrepreneurs who are selling services and products and programs, we have a totally different ball game that we play and so getting smarter about how we play it is absolutely key.
CHECK OUT OUR FREE CLASS!
5 SECRETS TO CREATING IRRESISTIBLE CONTENT CONSISTENTLY (Even If You Are Super Busy and Without Being 'On' All The Time)
Get my exact 5-Step System to nail your content creation once and for all, grow an audience of buyers (not just followers), and show up unapologetically as an entrepreneur without spending all your time glued to your devices.
✔  5 Content-Creation Mistakes That Are Likely Keeping You Stuck, Overwhelmed & Unmotivated and how to avoid them so that content becomes easy, enjoyable, profitable AND fun.
✔  Why People Aren't Resonating With Your Content or Buying Your Products, Programs, or Services and 3 simple tweaks you can make right now to flip the script and create magnetic content that connects & sells seamlessly.
✔  The Exact Blueprint Your Should Be Following For Your Specific Business Model so that you're always clear & confident on the BEST way to up online for your business (instead of modeling everyone else).
✔ A Proven Process To Transform Your Content Creation Process So You're Never Creating Content On A Whim or wasting precious hours of your day that should be spent closing and servicing more clients & customers.
✔  The Exact Content Formula Businesses Like Yours Leverage Every Day to attract more engagement, leads, & sales with content without being perceived as an influencer or needing a massive audience.
So, I hope this episode was helpful.
And if it was, make sure to come over to SmartContentClass.com. In there, you're gonna get serious takeaways, so bring notes, bring pen and paper,  because you're gonna get my exact five step system to nail your content creation once and for all without feeling like it's totally overwhelming. 
Again, I hope that this episode gave you a lot to think about when it comes to creating content consistently.
There's so much opportunity out there, and content is here to stay. We might as well master it in a way that feels right for us, that works for us, and that helps us show up confidently and own it. 
Don't forget to go all in. God has put you on this earth to serve others, multiply your gifts, and reach your full potential. Honor that gift.
We're rooting for you.
I'll see you in the next episode.
Un beso! Bye for now.
xx,
Kim❤️
Join The Business Lounge!
Master Online Marketing, Turn Followers Into Buyers, & Increase Your Income…  
(All without feeling confused + overwhelmed trying
to figure out what to work on next).
"Return on my investment in one week, seriously! After finishing Module 1, I took what I learned and put it into action. I got two new clients right after that!"
ELIZABETH MARTINEZ | PR SPECIALIST
"The Business Lounge is one of the BEST investments
I've made in my business."
MONIKA TOVEZ | ONLINE BOUTIQUE COACH
"The course's worth truly is immeasurable. It's the best gift you can give yourself as an entrepreneur."
YEIRA CALDERON | FOUNDER SOCIAL WAVE
"My girl, like literally, this Zero To Social course is what I've been wanting for the past 6 months in my business. I am BLOWN away. You have EVERYTHING someone needs to really create a social media strategy and a social media-based business."
CLARISSA RODRIGUEZ | FOUNDER ROCK AT COLLEGE