Level Up Your Marketing, Build An Audience of Buyers & Make A Bigger Impact
We help entrepreneurs like you build profitable businesses using proven content marketing strategies, even if you are super busy and without compromising your faith, family, or freedom.
Ready To Finally Master
Online Marketing?
You have God-given gifts, and we exist to help you multiply them.
Each of our programs helps you create a marketing strategy so that you can grow a wildly lucrative business that attracts clients & customers consistently
as you serve with confidence. 
5 SECRETS TO CREATING IRRESISTIBLE CONTENT CONSISTENTLY
(Even If You Are Super Busy and Without Being 'On' All The Time)
Get my exact 5-Step System to nail your content creation once and for all, grow an audience of buyers (not just followers), and show up unapologetically as an entrepreneur without spending all your time glued to your devices.
I'm a marketing strategist, entrepreneur, and educator helping creators and entrepreneurs leverage profit-driven online marketing that's purposeful. #profitabilityoverpopularity
Passion, faith, and an unwavering commitment to serving you drive everything we do as a company.
And hey, around here, your success means everything to us, so I hope you find our training practical, impactful, and easy to follow.
Text 'Kim' To (866) 498-2080
& get weekly marketing videos & resources directly from me
If you're looking for practical marketing & business advice, sprinkled in with some serious truths about growing a highly profitable and online business through a season of chaos, you'll love the show.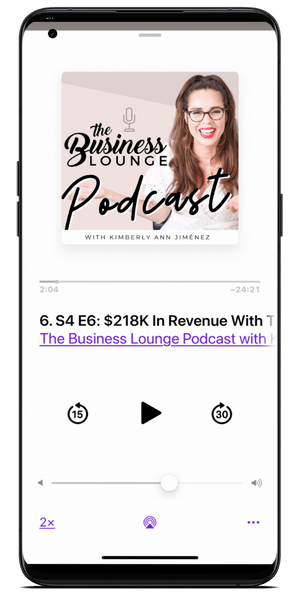 If you've been spinning your wheels piecing marketing advice from 7 different blogs, 11 YouTube channels, and 5 Podcasts with little to show for it, it's time for a change.
There's only one place on the internet where you'll learn how to design a profitable marketing plan, get real-world, proven strategies (not just theory), and build a profitable business that multiplies your gifts, serves with integrity, and is built for the long-haul.
Trust me, The Business Lounge is the program you wish you had found years ago.
FREE: Grab A Copy Of The Online Success Path For Creators, Leaders, and Entrepreneurs
profitable marketing advice for modern entrepreneurs
Get your weekly dose of profit-driven marketing, business, and life strategies to start or grow your online business, making an impact, and re-design your dream life.
With over 200+ episodes, we have you covered.
Is AI & ChatGPT Going To Replace Content & Online Marketing?
Kimberly Ann Jimenez,
Digital Strategist & Founder
Are we now witnessing the end of digital marketers?
Is AI going to take over the digital world?
Everywhere I turn, there's a new AI tool or feature popping up.
ChatGPT for one, is leading the way, and they've already amassed millions of users in no time.
And at least for me, I've been bombarded with questions from our awesome community about whether AI is the end of digital marketing, and if it'll replace content creators, copywriters, SEO specialists, and even graphic designers.
And while the answer is more complicated than a simple yes or no, I'm here to share my thoughts on this fascinating topic.
So buckle up and get ready to dive into the world of AI in digital marketing.
Related Read: 3 Marketing Assets You MUST HAVE To Protect Your Business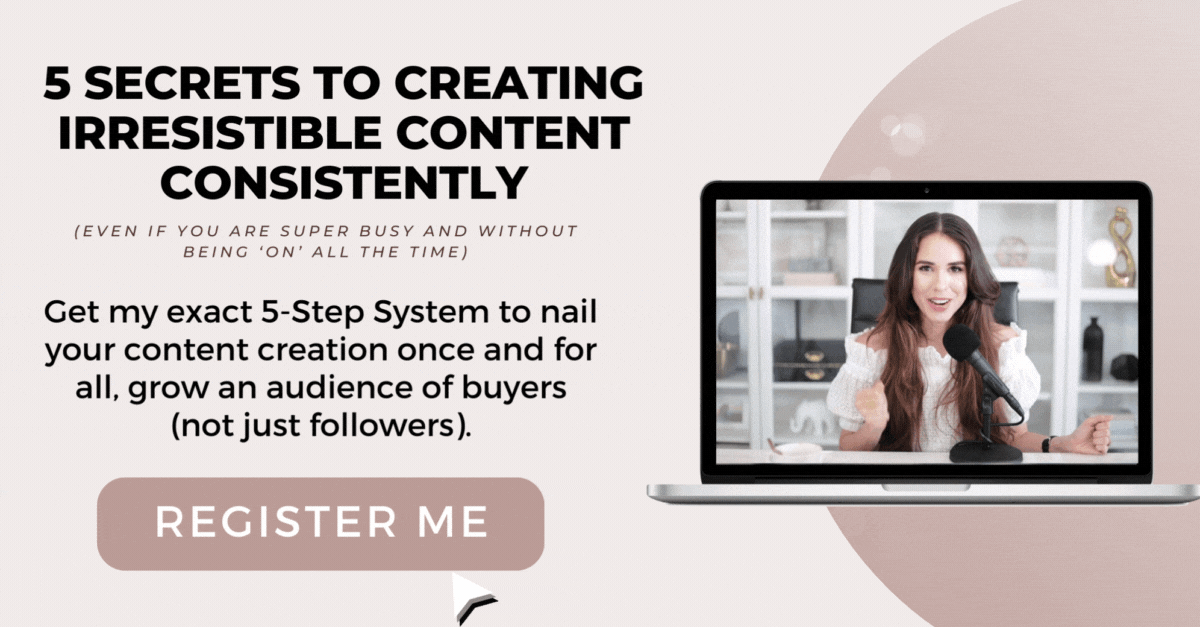 IS AI GOING TO SHIFT THINGS DRAMATICALLY?
First of all, it's completely normal to feel this fear and I think it's a very valid concern.
We're seeing a lot of AI tools that are capable of producing incredible graphics and artwork, and soon even videos.
And while some people may fear that this will lead to the demise of graphic designers, copywriters, and other creatives. I think not.
In fact, I think that it's going to be the end of content creators and copywriters and SEO strategists, and digital marketers who don't adapt, change, and who resist or refuse to learn new skills will be left behind.
Because it's really not about being replaced by machines, it's about using them as tools to enhance our work.
People who are willing to learn and incorporate AI into their work will have an advantage over those who don't.
As someone who's worked in the creative industry for 12 years, I know firsthand the importance of staying current and evolving with the times.
Plus, I also think that this shift towards AI is actually a positive thing for us as entrepreneurs, solopreneurs, content creators, and business owners, coz it will allow us to focus on the things that truly matter – creativity, strategy, and human connection.
Because hey, if you're in this game solely to make a quick buck and don't have a deep understanding of your area of expertise, then you may find yourself quickly replaced by a machine. But if you have built up legitimacy through your experience and know-how, and are willing to embrace AI as a tool to enhance your work, then you have nothing to fear.
After all, no matter how advanced AI technology becomes, it still lacks the creativity and intuition of a human being. And that's where we come in. By working in conjunction with AI tools, we can create truly exceptional content that resonates with our audience and drives results.
Having foresight and vision and knowing how to adopt and adapt, adopt new technology, and adapt to changing seasons and different waves of technology is really important.
And so there's going to be those dramatic shifts, but it's going to be up to you, as the entrepreneur, as a small business owner, as a creator as a marketer, to adapt and to find ways where you can leverage AI to your benefit, instead of looking at all the ways that it might possibly replace you, which I honestly don't think will happen.
WHAT ARE THE POSITIVES OF AI?
First off, it's going to revolutionize content creation by making it faster and easier. With all the amazing AI tools that are coming out, entrepreneurs and content creators can look forward to saving time and producing higher-quality work. This is great news for all of us!
Not only that, but AI can also simplify the process of outlining copy and strategy for your business, allowing you to create assets that you can leverage across multiple social media platforms.
However, it's important to remember that AI can be used positively or negatively, just like any other tool in the world. So it's up to you to use it in a way that benefits your business and your audience.
Remember, the success of your content ultimately depends on your skills as the creator.
It's essential that you learn how to use AI effectively, train your team to use it, and save time in the process.
While it can replicate your tone of voice and access factual information, it can never replace your unique experience and ability to account for context and nuance. These are the areas where AI falls short and where human expertise is still essential.
So, let's leverage those positives of AI and use it to our advantage, making our businesses more efficient and effective than ever before!
SOME OF THE PROBLEMS AI PRESENTS
First off, one of the biggest issues is that some AI models, like ChatGPT, have a data cutoff. So the latest data access of new information that is received is from 2021.
That means that a lot of the content can and will be factually inaccurate, which is super important that you understand. You have to edit this content very diligently because it will spit out wrong information. And that's something to be aware of.
Another problem is that AI is already causing tension among artists. Some AI tools are learning how to replicate existing art, essentially stealing from artists and adapting it to the masses. That's not cool! Some artists are even campaigning to ban AI from accessing their intellectual property.
The other thing is, AI has been shown to have a slight political bias. Many AI tools are developed by companies or individuals with their own ideologies and biases, which can affect the output of the technology.
So if you're conservative, like me, or you're Christian, who holds conservative values, it's something to be watchful of, at least we're being very, very cautious about it. I think it's a lot of wisdom to keep your eyes open and look at what is happening in the space.
And then there's SEO and AI. This is where things get really interesting! As you may already know, Google has come out with its own version of AR (augmented reality), F (fake), AI (artificial intelligence), and Bart. And let me tell you, there are some serious ranking issues that come with this technology.
The big question on everyone's mind is: will AI-generated content actually rank?
And let me tell you, I've been consulting with some SEO experts on this, and I listened to Neil Patel, and essentially I'm looking here at Google's search guidance, about AI-generated content.
So here's the thing – Google had initially banned AI-generated content because it can be used to game the system and engage in Blackhat strategies. But in a recent update to their search guidelines published in February, they've backtracked a bit.
According to Google, not all automation and AI-generated content is spam. In fact, automation has been used to generate helpful content like sports scores, weather forecasts, and transcripts for a while now. And with AI, creators can take their expression and creativity to a whole new level. That being said, Google still recommends that content creators prioritize original and high-quality "people first" content that demonstrates expertise, authority, and trustworthiness (EAT, for short).
So, while you can use AI-generated content, you do so at your own risk. And here's the thing – AI-generated content may seem incredible, but it's still unoriginal. That means that your competitors may end up with a similar response. So, it's important to think carefully about how you use AI-generated content in your SEO strategy.
Overall, Google is definitely taking a cautious approach to AI-generated content, and it's still not clear how much weight they give to their search engine algorithms.
And so this is what I think is important to think about. Because AI is generating unoriginal content, meaning no matter how incredible it seems, it's still generating a similar response for someone else, especially if you have competitors.
You want to use AI in a very different way than most people are going to think of using it.
Use it as a benchmark use it as a way of maybe starting a blog post but not allowing it to write the entire thing. Maybe you have writer's block, use it for that.
So I think this is a really interesting and exciting time to be in the online space.
Hey, we're in the midst of an incredible time where technology is advancing faster than ever before and transforming our lives in ways we couldn't have imagined.
I know I'm usually super cautious about AI, but hear me out – I have mixed feelings about it, and it's a bit of a rollercoaster ride.
However, we have to come to terms also to this idea and the fact that society has become unbelievably lazy. And we've traded convenience for our privacy and freedom.
Ultimately, do I think that people have the capacity to reject AI and have it go away?
I don't think so.
We must find a balance between convenience and privacy and ensure that our rights are protected in this digital age.
As marketers and entrepreneurs, it is essential that we do not become complacent and rely solely on AI to create our content and make decisions. We must continue to think critically and creatively, while also acknowledging the benefits and drawbacks of this technology.
With the right approach and mindset, we can navigate the world of AI and use it to our advantage, while also staying true to our values and priorities, and building a brighter future for ourselves and future generations.
So let's embrace this exciting time and use it to innovate, create and grow in ways we never thought possible!
And hey, if you enjoyed this episode and want to dive deeper into content marketing with me, here are three ways you can work with me.
1. Sign Up for Our Content Class– Get my exact 5-Step System to nail your content creation once and for all, grow an audience of buyers (not just followers), and show up unapologetically as an entrepreneur without spending all your time glued to your devices.

2. Listen to The Business Lounge Podcast– Come and listen as we dive deeper every week into Advanced Business and Marketing strategies in the podcast.

3. Join The Business Lounge– Join our membership program where Chris and I coach and train online entrepreneurs on how to leverage proven + practical business and marketing strategies. To level up your business, attract more buyers, and create a business you love.
Join The Business Lounge!
Master Online Marketing, Turn Followers Into Buyers, & Increase Your Income…  
(All without feeling confused + overwhelmed trying
to figure out what to work on next).
"Return on my investment in one week, seriously! After finishing Module 1, I took what I learned and put it into action. I got two new clients right after that!"
ELIZABETH MARTINEZ | PR SPECIALIST
"The Business Lounge is one of the BEST investments
I've made in my business."
MONIKA TOVEZ | ONLINE BOUTIQUE COACH
"The course's worth truly is immeasurable. It's the best gift you can give yourself as an entrepreneur."
YEIRA CALDERON | FOUNDER SOCIAL WAVE
"My girl, like literally, this Zero To Social course is what I've been wanting for the past 6 months in my business. I am BLOWN away. You have EVERYTHING someone needs to really create a social media strategy and a social media-based business."
CLARISSA RODRIGUEZ | FOUNDER ROCK AT COLLEGE