My TOP Free Trello
Power-Ups
(2020 Trello Tutorial)
Kimberly Ann Jimenez,
Digital Strategist & Founder
Ready to take your Trello productivity to the next level? You're going to love this post because I'm about to walk you through my TOP FIVE free Trello power-ups that you should be using in every one of your boards.
MY TOP FREE TRELLO POWER-UPS (2020 TRELLO TUTORIAL)
Catch up on our TRELLO series: 
Everyone should have the Card Repeater power-up on their Trello boards because this will come in super handy if you need to have a recurring task.
You're going to find the power-ups in the Menu section. Click that, and you're going to see so many different options. They're categorized in terms of their functionality, which I love.
Once you've activated the Card Repeater, let's set up the specifics. For example, if you're going to work on a weekly newsletter, you can create a card and set up the repeat settings. If you're sending it out every Wednesday, the newsletter needs to be ready by Tuesday. 
So you need to set the repeat to Weekly, set the time and the day. Set the condition, the list, and the position too. Your repeat setting should look similar to this.
For this example, the task will repeat every week on Tuesday. This is what we're going to call the "Master Card" because this is the card that Trello will automatically copy every week. You can add your workflow, to-do's, links to resources that you will need to complete the task, and essential attachments (maybe a graphic) in the master card.
IMPORTANT! With the free version of Trello, you only get one power-up per board. So you will have to choose which one you know you'll use often. If you upgrade to their Gold Level, you can use up to three power-ups. Their business class allows you to add unlimited power-ups.
My company and I are also not sponsored by Trello. We just want to share the apps and strategies that we use and have truly helped us improve our productivity.
The second power-up that I think is super powerful – pun intended – is Custom Fields. I get asked about this in our community a lot.
For example, I'm doing a hiring project; custom fields just allow me to add more information that might be relevant to my team and me as we're going through different hires.
If we want to add a start date or the interview period, we can add it as a custom field. We can also add a Yes or No option for individual interviewees, "Has he/she been interviewed? Yes or no." We can always add text fields if we need to. We may want to change the status so we can add a custom field saying, "Moved to the top applicant."
There are so many things you can do with the Custom Fields power-up. You can add a checkbox or a drop-down item. You can look into more ideas of how you can use this power-up and make it super efficient for your workflow. 
The next power-up that we highly recommend is the Calendar. For sure, you're going to want to have this on every one of your boards.
When you have the Calendar power-up activated, you're going to see a calendar view on top of your board. That way, you can simply switch between the board view and the card view. You can see everything that's going on at a glance anytime. Every time you've completed a task or project, you'll see a strikethrough on there as well.
You can click on a card in the calendar view and quickly edit it. You can also add individual cards or move them around to switch out their due dates. My team and I find it very helpful to look at what's going on for each week or month.
The next power-up that is super helpful is called Card Snooze. This power-up lets you bring back a card that you've put on pause or want to remember to work on in the future and reappear on your Trello board. 
Card Snooze is so helpful, especially if you want to jot something down quickly, then revisit it in a week or a month from now. You don't want it to take up space on your board, so this is the power-up for you.
For example, we're doing a TBL launch. We're opening up the doors to our membership site again, but not now. So what we'll do is hit snooze for a couple of hours, days, or even months. The card will be archived and then brought back to exactly where it was before when the time comes that we'll work on the project.
Last but not least, the Card Aging power-up is essential, especially if you're working on a lot of different projects at the same time, or you have a team that you're collaborating with.
I know this might look basic, but we tend to overlook how useful this power-up is. The Card Aging power-up applies a filter to the cards that have not been active for a while.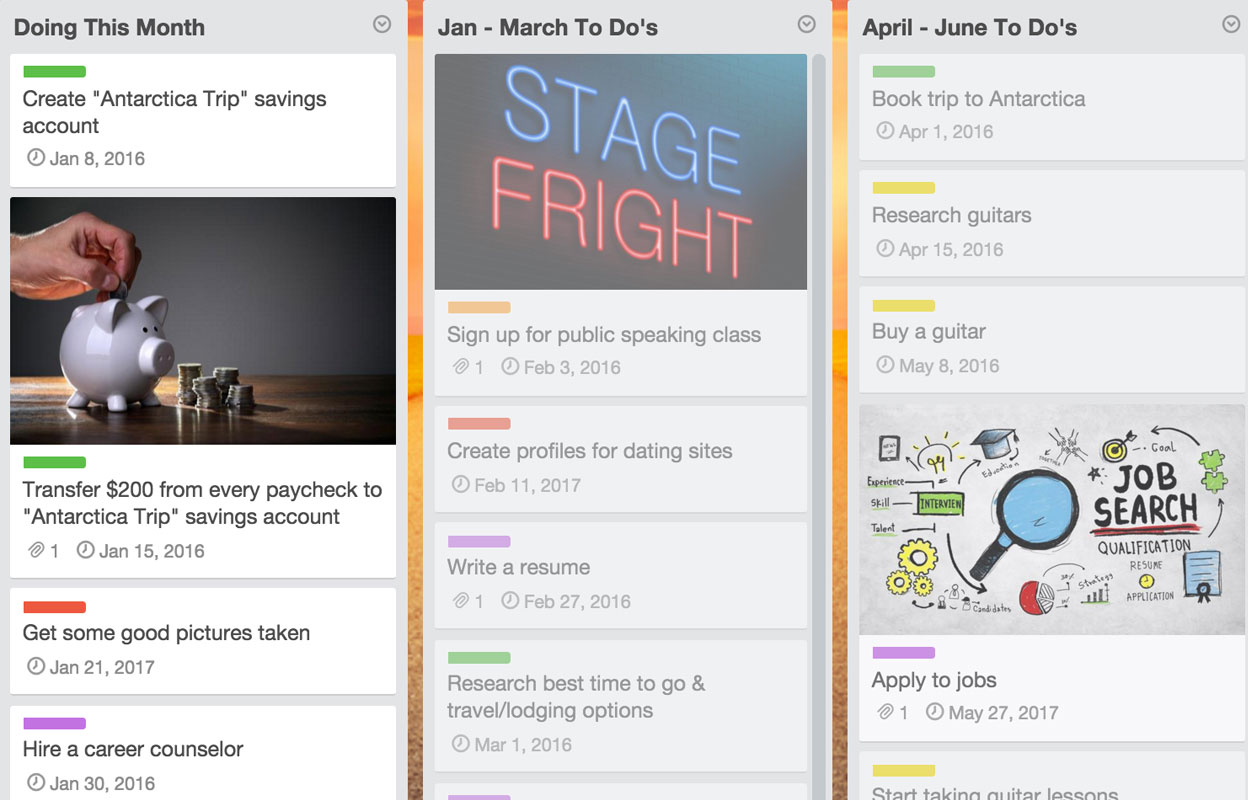 At a glance, you're going to see which of the cards need attention or which of the projects have not made any recent progress. This helps provide a clear visual indication that, "Hey, we need to get back on this specific card." It's also an excellent way to assess whether a task or a project is something that you still have to work on.
Now that you know how to leverage power-ups and get your productivity to the next level, it's time to learn how to sync your Google calendar with your Trello board. You can get more done with a Trello calendar task system. 
So if you want to learn more about that, I'm going to show you a couple more advanced strategies in the next blog post.
Don't forget to let me know in the comment section below, what is your favorite Trello power up? I'd love to know all about it.
'Til the next one!
X,
Kim
Ready To Master Online Marketing?
It's time to choose profitability over popularity and get needle-moving results.
Get started inside The Business Lounge.