Master Online Marketing,
Choose Profitability
Over Popularity,
Get Needle-Moving Results.
(All without feeling confused + overwhelmed trying to figure out what to work on next).
Master Online Marketing,
Turn Followers Into Buyers
& Boost Your Profits
(All without feeling confused + overwhelmed trying to figure out what to work on next).
If you're tired of feeling stuck, running around in circles,
trying to "make it work" without seeing results – I got good news.
It's not your fault.
With all the confusing advice out there, it's hard to sift through the noise and figure out the best way to grow your business online.
Should you be running FB Ads? 
Doubling down on Instagram? 
Is list building the key?
Building a brand that fulfills you, helps you make a real difference all while being wildly profitable, isn't some pipedream reserved for "the experts."
What if I told you the marketing strategies that are getting entrepreneurs the BEST results are NOT "buzz-worthy"?
The hype is real but what really works online isn't growth-hacking the latest social media platform or finally cracking the code on pesky algorithms.
It's connecting with your customers at a deeper level.
Knowing how and when to monetize your content. 
And setting yourself up to win from the start by building
a community of buyers, not lurkers. 
THOSE are the things that move the needle the faster in your company.
THOSE are the things that accelerate your momentum and attract your
dream clients and customers.
Which in turn, makes online marketing less about being popular and more about being profitable. 
I'm willing to bet that NOT having a clear roadmap to grow a profitable vs popular brand is causing…
✔ Total distraction (hello, shiny object syndrome!). 
✔ Unnecessary stress & anxiety (you're spinning your wheels trying to decide which marketing strategy is going to be "the one" that helps you profit).


✔ A BIG lag in your income (you're not following through on income-generating strategies because your busy piecing together confusing advice from 17 different blogs,
podcasts & courses).
In an age where cheap clicks, fake followers and vanity metrics are the hype, it's no wonder why most online entrepreneurs are totally lost.
It can feel impossible to grow when you don't have a clear plan to build a business that allows you to serve at your highest level and make a fantastic income while you're at it.
Like I said, it's not your fault, friend.
Entrepreneurship doesn't
come with a handbook…
Which is exactly why most entrepreneurs don't have a clear plan
to grow a profitable brand online.
(Should you be running webinars, FB Ads, doubling down on Instagram,
creating videos, or laser-focusing on list building???!)
It can feel nearly impossible to find the right marketing strategy that works for your business,
not to mention keep up with all the constant changes.
Luckily, we created a full system to keep you focused,
on track + totally empowered.
It's your own personal playbook to grow a wildly successful business online,
whether you just got started, or have been in the game for a while.
…No more wasting time chasing shiny objects.
…No more spending a fortune purchasing individual courses that only give you ONE piece of the puzzle.
…No more trying to figure out which online marketing strategy will work best to grow your online business. 
Your A-Z blueprint to mastering online marketing, connecting with dream clients and boosting sales…
All in 30+ unique, self-paced courses backed by a community of 1k+ like-minded entrepreneurs.
It's so much more than "just another program" because inside, you'll access a full business action plan customized the specific stage you're in, so you never have to wonder which relevant business or marketing strategy to master next and what to ignore grow your brand.
Limited Time Offer. Cancel Anytime.
It's time to drown out the noise, and get serious about only working on the online marketing strategies that will help you reach your goals.
So whether you're thinking of a business idea or you're ready to scale up your brand,  you'll access dozens of courses, frameworks, and resources designed specifically
for the stage of business you're in.
The entire Business Lounge program is designed to accelerate
your success and save you years of painful trial and error.
And if anything inside you knows that with a little focus, and the right guidance you'll move mountains, I hope you'll stick around.
I want to teach you how to build a conversion-focused, heart-based brand that makes you an amazing income and leaves your mark in the world.
Here's How It Works
When You Join…
We'll help you create
your business success plan.
Whether you're in the "ideas" stage or already run a profitable brand, we'll help you design a customized plan to help you get where you want to go. You'll instantly access: 
✔ A clear list of strategies to implement so you're clear on your action plan (and also a list of which strategies to ignore until the next stage #byeshinyobjects!). 
✔ A custom-curriculum so you're ONLY learning to leverage online marketing strategies that are relevant right now through our 30+ training courses (included in the program). 
✔ Clear benchmarks to hit before you "graduate" on to the next stage of business success!
We'll teach you all the business
+ marketing skills.
Learn The Skills With 30+ Training Courses
✔ Dive instantly into the step-by-step process for mastering your marketing + business skills inside our ever-growing library of 30+ specialized marketing & business courses (full list below).
✔ Whether you're brand, spankin' new to the business world or a seasoned marketer, our courses will help you build a foundation and take your marketing game to the next level.
✔ Plus, each course builds on the next, so you won't find contradicting or confusing advice here. #winning
We'll coach you along the way
and help you implement.
✔ With LIVE, monthly coaching calls where we help you bust through obstacles and give you personalized business advice, you'll never feel stuck or alone.
✔ Find an accountability partner to bounce ideas with, implement new strategies and get motivated to complete projects with another like-minded member who totally gets you.
✔ Take our certification tests after completing our core courses and build your marketing portfolio (perfect if you're offering business or marketing services to other companies).
Get personalized feedback
and answers to your most
pressing questions.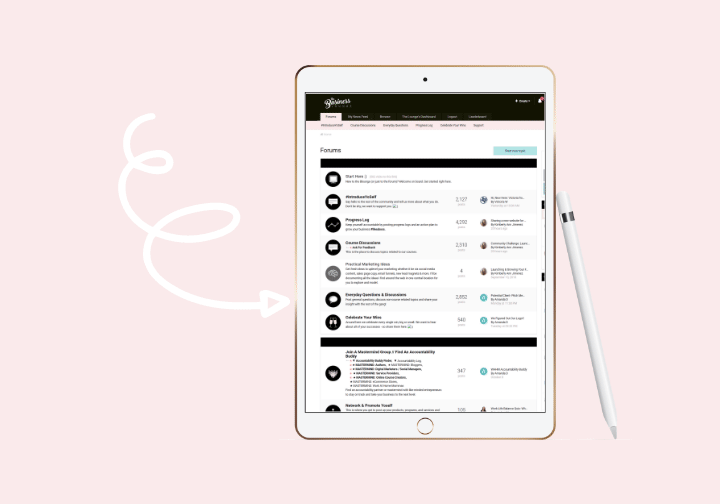 Get Plugged Into The Community & Ask Questions
✔ When you're here, you're family! Wait… that's Olive Garden. LOL! But seriously, we're all about connection and we're constantly available to answer questions and help you implement.
✔ Our member-only forum is chock-full of thousands of answers to the most frequently asked questions (and hundreds of supportive members too), plus, you can ask new ones and get my feedback personally. 
✔  Just in case forums aren't your thing, we have an entire bonus Facebook community where you can ask questions, get involved and access news, updates, live videos, tips, advice and so much more (just keep in mind, we don't own Facebook so this is a bonus to the program).
Continue your education with
weekly resources, videos,
workshops and guides.
✔ While you're working through the curriculum, we'll send you new resources to sharpen your marketing and business skills. 
✔ You'll never fall behind on what's "working now" in the world of online marketing because we'll keep you in the know.
Not to mention, you'll enjoy access to our brand new  #BehindTheBusinessLounge series so you can take a peek at how we run our own marketing, learn from our wins and our failures too.
✔ Plus, we're constantly adding new resources and listening to your feedback. So you can request new courses, workshops and downloads anytime.
Limited Time Offer. Cancel Anytime.
Our Full Course Library Is
Constantly Growing…
And your marketing skills grow with it!
Over $9,000  worth of top-of-the-line business &
marketing courses are waiting when you join us inside.
Streaming with a DSLR? Using multiple camera angles? Discover how to level-up your live streams now!
Leverage blogging to establish yourself as an authority, drive more traffic, capture more leads and convert them into paying clients.
Drive more traffic, increase your leads and boost your sales with our A-Z Facebook Ads Course.
Start turning leads into buyers on auto-pilot with profitable sales funnels that work while you sleep.
Learn to plan, organize, schedule, and repurpose your content like a true media company.
Find, vet, hire and train your first
(or next) VA abroad and start delegating like a pro.
Ditch overwhelm and create a productivity framework that helps you hit goals consistently.
Design a social content strategy with easy to implement formulas & never run out of engaging posts.
Structure email campaigns, automate sequences, run flash sales & grow on autopilot.
Create irresistible lead magnets that build your email list on auto-pilot & prime subscribers for the sale.
Design lucrative webinar systems both live or evergreen that convert into sales.
Go from idea to profitable launch in 30 days or less and start expanding your reach.
Leverage Pinterest to drive traffic & generate organic leads through search.
Painlessly design a stunning WordPress website in a weekend using our favorite theme builder, Divi.
Inject cash flow into your company with carefully crafted promos. Proven templates included!
Build your visibility with video even if you're not confident on camera (budget equipment guide included).
Level up your workflow and build smart habits to instantly boost
your productivity.
Send targeted emails that actually get delivered with our favorite email marketing tool.
Set intentions & breakdown business, financial + personal goals into tangible initiatives (planner included).
Leverage Mailerlite effectively to send targeted email marketing campaigns to your email list.
Discover how to grow your business with LinkedIn inside this exclusive workshop.
Grow your business authentically with proven + practical Instagram strategies.
Position your brand in the marketplace, standing out and find your pricing "sweet spot."
Write sales pages that turn web visitors into buyers in
12 simple steps.
Launch and grow a profitable show that actually moves the needle
in our business.
Grow your email list from scratch with quality subscribers organically using social media & content marketing.
Discover practical strategies to
create epic content consistently that increases your bottom line.
Run a profitable promotion & implement inside our boot-camp
style course.
The Testimonials Are In… Here's What Our Members Have To Say…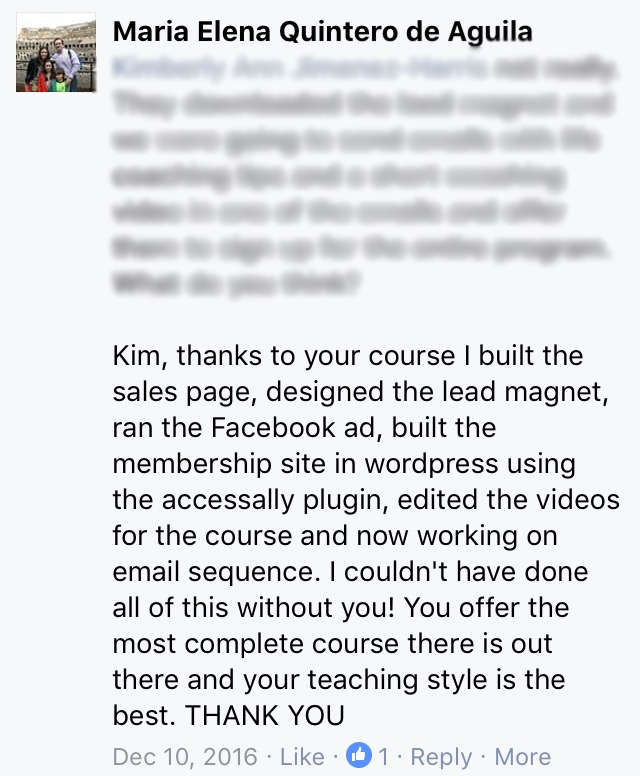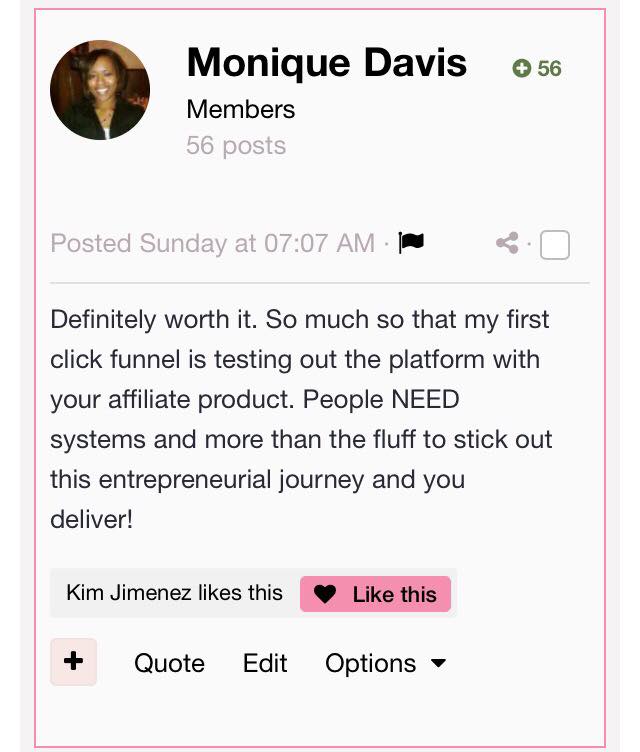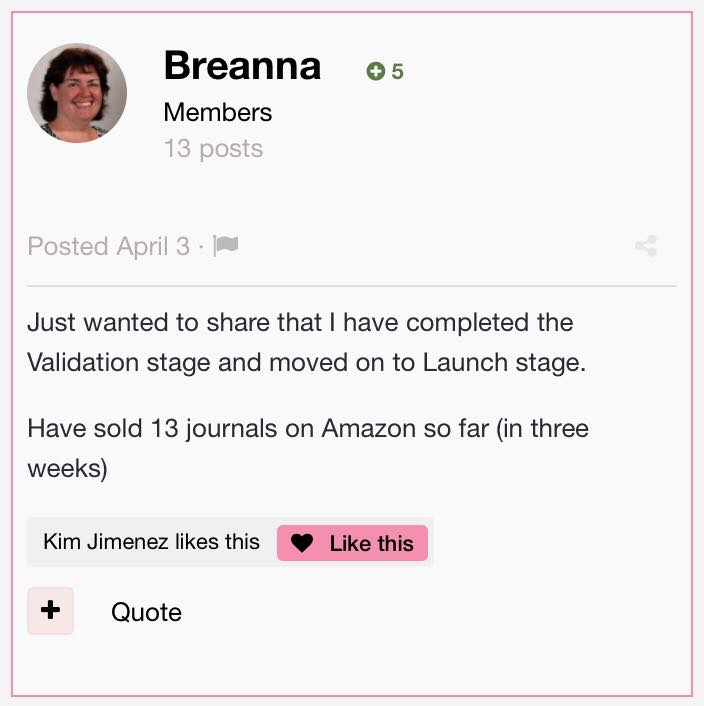 So… What Can You
Expect When You Join?
Whether you want to turn your side hustle into your full-time business,
take your established company to the next level or scale to new heights, The Business Lounge will help you…
Leverage proven marketing strategies so you can attract dream clients and increase your profits.
Grow an audience of buyers (not just followers) that come back for more time and time again.
Get clear on your brand vision so you attract your people and build an empire by your own design.
Optimize your entire marketing strategy to focus on conversions vs. vanity metrics.
Focus your time & energy on the right strategies, get unstuck and leverage momentum to grow. #byeshinyobjects
Master proven marketing strategies so you can confidently sell MORE online.
Position yourself as the go-to person in your field, and charge what you're worth with integrity.
Create a productivity workflow that prioritizes your time and allows you to work on what matters.
Build your traffic and get in front of your ideal clients so you can grow your leads and get more sales.
Learn to delegate to a team and get back your time so you can focus on the things that truly matter.
Look. If all The Business Lounge did was give you the confidence to leverage online marketing to boost your sales, would it be worth it?

Heck, yes.
If all it did was build an audience of buyers who can't wait to purchase your products over and over again, would it be worth it?
Absolutely.
And if all it did was give you peace of mind so the next time you hit a wall with your company you could rest assured that you have a proven way to market your business,
would it be worth it?
No doubt.
If you've read this entire letter up to this point you're probably thinking,
"Okay, Kim, I'm! How much is The Business Lounge's investment?"
I'd be lying if I told you that creating this program didn't cost me. I've spent years, countless hours and tens of thousands of dollars of my own money creating a proven framework that works for experts, authors, bloggers, e-commerce brands, service providers, course creators and more.
And because I'm in the trenches with you, answering your questions, giving you feedback and support, I know we could easily charge ten times more for this program
(especially since our competitors do).
But we're not going to do that because even though it would still be less expensive than hiring a business coach, it wouldn't be accessible for most solopreneurs
(I know it wouldn't have been when I got my start).
I'm giving you a chance to access top-of-the-line training,
in an all-inclusive format, so you can dive right in and
start building real momentum.
Join The Business Lounge
For A Limited Time 
✔ Instant Access To 30 + Training Courses. ($6,999 VALUE)
✔ Full Success Path + Custom Action Plan. ($999 VALUE)
✔ Monthly Live Coaching Calls w/ Kim + Chris. ($999 VALUE)
✔ Access To Workshops & Live Critiques. ($499 VALUE)
✔ Private Forum Community. ($499 VALUE)
✔ Private Facebook Community. ($499 Value)
✔ BONUS: Course Certification Program. ($999 Value)
✔ BONUS: 60+ Quick Tip Training Videos. ($999 Value)
✔ BONUS: Launch Swipe File. ($299 Value)
✔ BONUS: Lock In Your Monthly Rate. ($499 Value)
✔ No Contracts. Cancel Anytime.
No contracts. Cancel Anytime.
 ✔ Everything we included in the monthly pass!
✔ $200 OFF = 2 months free. 
No contracts. Cancel Anytime.
As we add more courses, workshops, live training and the value of our membership increases, so will the price for new members (only). Join and lock in today's rate.
Because let's be real. Having clarity, direction and a roadmap to success so you can implement consistently is everything in business.
Without guidance, the process can be overwhelming and costly.
I'm letting you in on business and marketing secrets most marketers would NEVER release to their communities without charging an arm and a leg. We're doing it because the team and I are deeply committed to your success (and we actually mean that).
Seeing real examples of how you can strategically launch, grow and scale your business will uplevel your game. Plus, you'll have a safety net to fall back on those days when you need tangible guidance and advice.
And if anything inside you knows that with a little focus, and the right guidance you'll move mountains, I hope you'll join us inside. 
The unlikely girl behind the brand
Hey, You! I'm Kim Jimenez.
 I'm a pro at building brands via the internet, so if it's got anything to do with online marketing + making it simple, I'm your girl.
I helped take our first local business to multiple seven figures using social media and dedicated my 7-year career to helping hundreds of businesses do it too.
Now, I've built my multi-six figure empire teaching entrepreneurs in 32 countries how to connect with their dream clients online, increase their income and make a bigger impact (all while having some serious fun).
Growing a business online isn't a walk in park, so I'm not going to sit here and tell you yours will blossom overnight.
It took showing up, consistent work and serious dedication over the course of several years to get here. 
But after growing a nearly-seven figure brand from scratch for the second time, without a massive following or a huge list, I can say I've cracked the code on what works (and doesn't) online.
Your profitabiliy matters to me. And I want to help you build a brand that focuses on profitability over popularity too.
 1. I'm super busy, how much time do I need to invest to get results? 
We get that, which is why we create The Success Path.
It's a clear action plan that will help you only focus on courses that are relevant to your business stage. If you dedicate as little as 1 hour per week to learning + implementing, you'll be golden.
 2. I'm taking other courses right now, is this something that I can "layer" on top of other training materials? 
Absolutely! While The Business Lounge is designed to stand on its own, we get that you've made prior commitments to your continued education (go you!), and everything you learn inside will build on your existing skills. Plus, Kim's always available inside the community if you need help marrying concepts from other courses into the program.
3. Does the price ever go up? 
Heck, yes! But ONLY for new members (not existing ones like you). As we add new resources to the membership and the value increases, so does our pricing. This means the longer you're a member, the more valuable your membership becomes!
4. Is this only for course-creators? 
Heck, no! Our members are incredibly diverse. From running service-based companies to e-commerce brands to brick & mortar shops or a combination of all three, you'll feel right at home.
5. I'm currently traveling – are there any options for me? 
Yes! The content is accessible instantly on your favorite devices. From your laptop to a table or your mobile, you'll be able to access the community and learn on the go, 24/7.
6. Is this only for beginners? 
We're proud to say, many of our members make over seven figures per year and continue to be a part of our community because of the advanced education element.
So whether you're in the ideas stage or a savvy entrepreneur, we have you covered.
The only exception may apply for veteran marketers who also teach online courses (a.k.a. our competitors).
7. How often is the training updated?
Every single month we have new workshops, courses, or dedicated training in the community, so the content is always fresh, and you access the latest strategies & tactics.
8. Can I purchase courses separately? 
Except for our End of Year Sale, none of our courses are available for purchase outside of the membership, but if they were, your investment would be 5X-10X based on the value each course provides.
9. What if it's not right for me? 
Glad you asked! All sales are final but you
may cancel the membership going forward, anytime.
10. Is there a contract? 
Nope. Just like your favorite on-demand streaming service, you can cancel anytime! Just make sure to email or chat us at least 24 hrs before your next renewal to avoid being billed. Renewals are non-refundable.
11. Are there other plans available? 
Yes! You can join our annual pass too and save $200 or our lifetime pass and save $500.
12. Is this a female-only community? 
While The Business Lounge is proudly female-led, owned and operated, we love our dudes and many of our members are guys too! Kim's husband Chris joins her for Q&A every month so both male and female perspectives work synergistically.
Have more questions? Use our in-page chat located on the left hand side of this page!
We're so thrilled to welcome serious entrepreneurs like you into the community.
IMPORTANT: All Sales Are Final But You May Cancel Your
Monthly or Annual Subscription Anytime.
Have a question?
Use the web chat on this page to get transparent answers.