Your template is on it's way to your inbox (please allow 10-15 minutes for delivery).
the easiest way to create
lead magnets that actually
grow your email list every day 
the easiest way
to create
lead magnets
that actually
grow your email list every day 
even if you are a total newbie and have zero design skills.
Be Real. does creating a lead magnet that grows your list feel like rocket science?
I've been there too and it looks something like this…
You get an epic idea and think to yourself, "oh. emm. gee… this is going to make the perfect lead magnet!''
So you rush to your laptop, slave away for a few days to whip up the coolest freebie ever, set up an opt-in page and hit "publish" expecting to see a wave of new subscribers rush into your list fast.
A few hours go by… nothing.
You pour yourself some tea, come back and refresh your email marketing platform a few times… no new subscribers.
Frustration threatens to set in but you compose yourself…
"Okay, maybe I just need to give it some more time", you think to yourself.
The days turn into weeks and still barely any new subscribers.
And that's when total overwhelm sets in and crazy thoughts like, "How am I ever going to figure out this list building thing if I can't even create a lead magnet my audience will download? Am I even cut out for this whole online business thing?''
Deep breath. You're not alone.
In fact, there's a much easier way make sure you create lead magnets that actually add new subscribers to your list every single day without feeling overwhelmed or slaving away for hours only to realize your lead magnet was an epic flop.
Can I get an "amen"?
It's time to quit investing time, money and too much
energy creating lead magnets that don't
move the needle in your business.
But what actually makes the perfect lead magnet… perfect? Everyone says something different and it can feel totally overwhelming.
Should you create a free mini-course? What about a webinar or a challenge? Wait, no, it should be a video series!
Feel familiar?
Yeah. Me too. 
In fact, for the first two years in my business, I REALLY struggled to create lead magnets that turned my blog visitors into leads and eventually into paying clients.
Every lead magnet I created turned into an epic flop.
I enrolled in three million courses, watched dozens of YouTube videos, listened to endless podcast episodes and got nowhere… fast.
And it wasn't until I got really serious about deconstructing what made lead magnets attractive to my audience and experimented like a mad woman that I finally figured out what makes the perfect lead magnet.
In just 90 days, I went from having zero subscribers to hitting my first 500 subscriber milestone and a year later, I reached my 10,000 subscriber goal (without ads or tons of traffic). 
Today we systematically add 50-200 new subscribers to our email list on auto-pilot every single day.
The secret? Reframing the way you create lead magnets altogether and the good news is you don't have to spend crazy amounts of money, time or energy to make it happen…
In fact, you have everything it takes to create amazing lead magnets that grow your leads and help you make more money online.
Enter… The Perfect Lead Magnet Course.
It's the ultimate step-by-step guide to creating lead magnets that attract the right subscribers and grow your email list, and increase your earning potential.
Wait. what is the perfect lead magnet, anyway?
The Perfect Lead Magnet is our step-by-step video training program that teaches you exactly how to create lead magnets your audience will devour so you can finally attract the right subscriber, grow your email list and increase your profits.
Which means it's that piece of the puzzle you've been missing out on to supercharge your list building efforts and maximize your earning potential.
Here's the framework you're going to learn inside.
Step #1: Validating Your Lead Magnet
In this step, you are going to learn how to treat your lead magnet like a paid offer so you know that it will work before you invest any time, money or energy creating it.
Step 2. Planning Your Lead Magnet
Next, I'm going to show you exactly how to design your lead magnet so that it leads to a sale. This is the key to prep your subscribers to become paying clients and customers.
Step 3. Create A Promotional Plan
Finally, I'm going to walk you through the action steps you need to take to get as many people as possible to download your lead magnet (even if you don't have tons of traffic or an existing list).
What Am I going To Learn Inside?
We've packaged this training into 11 short lessons you can dive into and implement super quickly .
Here's what you will discover inside:
Lesson #1: What Is A Lead Magnet, Really?
Learn why your definition of a lead magnet is flawed.
Lesson #2: How To Pick The Right Type Of Lead Magnets
It's a lot easier than you think.
Lesson #3: Brainstorming Ideas
I'm going to give you tons of ideas to spark your creativity.
Lesson #4: Planning Your Lead Magnet
Create a kick-butt outline & cut back on your creation time.
Lesson #5: Validating Your Lead Magnet
Know that your lead magnet will work before you create it.
Lesson #6: Creating Your Lead Magnet
Follow my system to create your epic lead magnet painlessly.
Lesson #7: Designing Your Lead Magnet With Canva
Not a designer? No problem! I'll walk you through creating a beautifully designed lead magnet via Canva (for free).
Lesson #8: 7 Elements Of A Highly Converting Opt-in Page
Creating an opt-in page that converts is massively important and I'm going to walk you through the 7 elements you need to include.
Lesson #9: You Lead Magnet Promotion Plan
Leverage top marketing strategies to maximize your sign ups.
Lesson #10: Where You Might Get Stuck
Learn how to get unstuck at any step of the process.
Lesson #11: Next Steps
Now that you have The Perfect Lead Magnet it's time to take your list building to the next level.
TECH BONUS: Building Opt-In Pages With OptimizePress
TECH BONUS: Delivering Your Lead Magnet With ActiveCampaign
TECH BONUS: Delivering Your Lead Magnet With Convertkit
TECH BONUS: Delivering Your Lead Magnet With MailChimp
How do I know this will
work for me?
There are tons of shiny programs out there that make crazy promises.
So why should you trust me? I mean, we don't know each other that well (just yet).
Here's why. 
Over the past fours years, I've worked one-on-one with hundreds of solopreneurs just like you and 700 students (and counting) have joined our online training programs.
I've put the systems I am going to teach you inside through the ringer with both my own team and my clients.
What's more is that over the past 5 months we've helped 156 online entrepreneurs just like you grow their online businesses inside my membership program, The Business Lounge which is where The Perfect Lead Magnet course was first released.
Keep reading to see what they are saying about the program.
List building is a marathon, not a sprint. Get access to the tools & resources you need along the way.
ready to ditch the overwhelm and grow your email list? 
Start tapping into the power of creating lead magnets that convert and build your list, make more sales and grow your business.
If you're itching to finally find a system that allows you to plan, create and launch lead magnets that move the needle without losing your sanity or wanting to call it quits?
I'll show you how to do it all inside The Perfect Lead Magnet Program!
Get started right away by choosing the best option for you below.
pick the option that works for you
One time payment. Access for a full year.
the business lounge (get all of it)
Everything In The Perfect Lead Magnet Course
Instant Access To Our Course Library + 30 Business Building Courses ($5,000 VALUE).
Yep. You're about to unlock 'Netflix for your online business'.
Our Flourishing Forum Community ($499 VALUE)
Get your questions answered and access 12k threads of tips, advice, and practical insight.
Monthly Live Q&A + Mentorship Sessions With Kim & Chris ($499 VALUE)
Get in-depth feedback in real time from advisors you trust.
Exclusive Workshops & Live Critiques ($499 VALUE)
Don't have time for a full course? Access short trainings that you can consume on the go.
Private Facebook Community ($299 VALUE)
Connect with other members, access inspiration and advice from your peers and network with people who get you.
BONUS: Save $199 In Tuition Fees
Our community is growing at a surprisingly fast pace and we'll be introducing a tuition fee soon.
BONUS: Course Certification Program ($999 VALUE)
Take a final exam on each of our core courses and get an official certificate to flaunt on your porftolio.
What My Students Are Saying…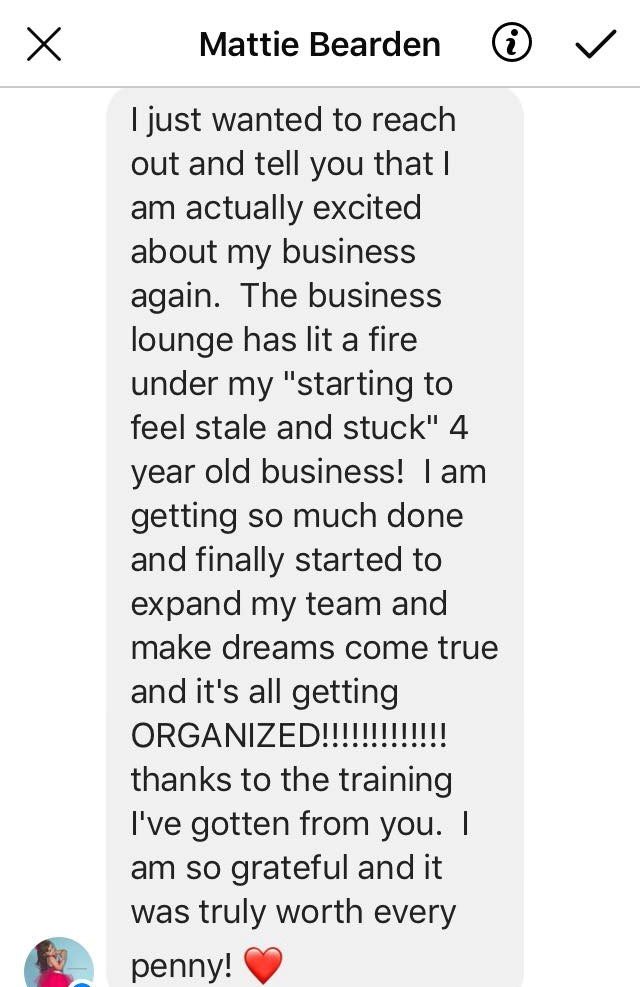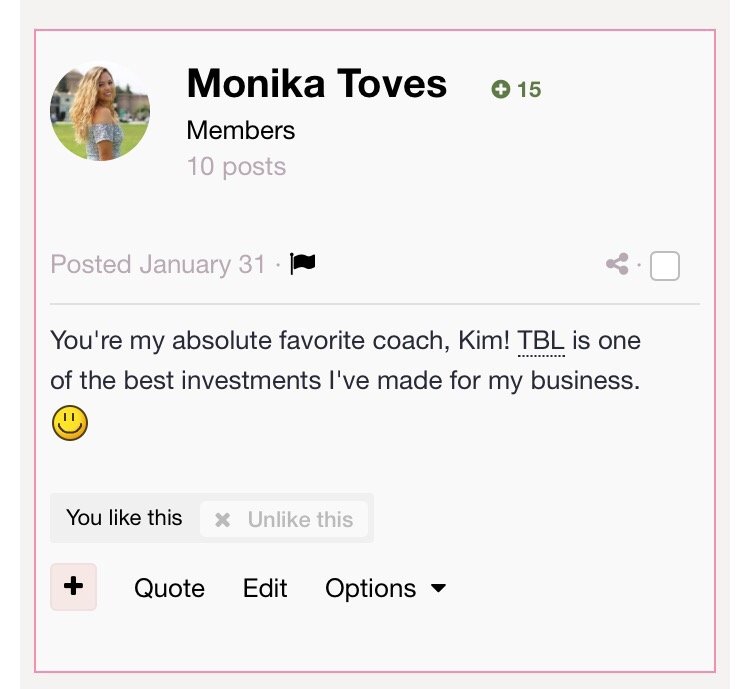 Can I Get My Money Back If The Course Isn't The Right Fit?
Yep…all our trainings have a 14-day, no-questions-asked guarantee.
No hidden fees. No price increases.
You can cancel your subscription at any time and if for whatever reason, this program wasn't the best money you have ever spent, request a refund within the first 14 days and get your investment back.
IMPORTANT: Homework and the completion of at least two lessons are required for all refund requests. Click here to read our refund policy.
How Long Will I Get Access?
Access to The Perfect Lead Magnet as a stand alone course is a full year.
If you purchase The Business Lounge you'll have access to ALL the courses (current and future) for as long as you remain a member.
I Sell A Service - Will This Work For Me?
If your service is sold online, then absolutely.
The Perfect Lead Magnet & The Business Lounge are both designed specifically for coaches, consultants, experts, online service providers and anyone who can deliver their service or programs 100% online.
Will Kim Be Available To Answer My Questions?
If your purchase this program via The Business Lounge you get direct access to me on a daily basis both via our forums, live Q&A's and direct messaging through the platform. So bring on the questions!
If your purchase this course as a stand alone program it is self-study course, which means I won't be available to answer your questions directly but you can always get support from our free Facebook community.
How Is The Training Delivered? Are They Live? Is There A Deadline?
The entire course library is waiting for you right NOW.
All of our courses inside the course library are delivered via video lessons you can access at any time and at your own pace.
I Barely Have Enough Time - How Will I Find The Time To Implement Everything In The Lounge?
I know your to-do list is probably piled a mile high and the last thing I want to do is add more to your list.
But you DO have the time. What now? 
Yep. We all have the same 24 hours in a day and the whole point of this membership is to hold you accountable and provide the on-going support you need to uplevel your business.
Not to mention, all of our training courses are boiled down into bite-sized, actionable video lessons you can consume and keep track of in less than 15 minutes each.
What's The Difference Between The Business Lounge And The Perfect Lead Magnet?
They are completely different. The Business Lounge is a premium, all-inclusive membership site designed specifically to for online entrepreneurs to uplevel their businesses.
Inside you have access to a full-fledged learning library with over 14 different business-building courses, exclusive resources, Q&A sessions, outstanding support directly from Kim and a members-only forum to keep you accountable.
The Perfect Lead Magnet is a single, self-paced online program within The Business Lounge. You can purchase it separately at a discount for a limited time or join The Business Lounge on an on-going basis to supercharge your business with direct support from Kim.
How Long Will It Take To Get Access To The Training?
Immediate.
Your login and access information will be sent to the email address you provide, and there will be a video on the next page that explains how you can access the training videos.
14-DAY MONEY BACK GUARANTEE
No hidden fees. No price increases. No shenanigans.
In other words, if you aren't happy for any reason, just let us know and we'll give you your money back.
We obviously don't think it'll come to that, but if you're even the least bit worried if this will work for you, then put your mind at ease. You either get the results you want or you get your money back.
It's as simple as that.
IMPORTANT: Homework and the completion of at least two courses are required for all refund requests. Click here to read our refund policy.
It's hard enough to start and grow an online business, don't go at it alone.