TRELLO TUTORIAL 2021:
5 Basic Steps Productivity Workflow
Kimberly Ann Jimenez,
Digital Strategist & Founder
If you're not using Trello this year, you're missing an important tool in your business.
I've been using Trello for years now, and because the platform is unbelievably flexible, we use it on the daily. 
From planning our internal promotional calendar to collaborating effectively with my team, Trello makes it simple and straightforward to get things done.
And today, I'll be sharing five ways to help you level-up your Trello boards, out with boring and blah, in with a well-organized board that boosts your productivity.
First up, let's expand your  Trello list, making sure that they are customized according to your workflow.
Aside from just creating lists for "Ongoing Tasks", "Done", and "Doing", you can be hyper-specific with how you organize your to-dos. 
Some of my must-have lists for personal productivity boards are "Weekly Goals", "Paused", and "Notes." 
2. CHANGE THE BACKGROUND PICTURE
 I know this sounds extra but I think your environment affects your productivity in the real-world. So, why wouldn't you make every digital asset that you interact with visually appealing too?
The good news is, changing your Trello background is simple and there are loads of beautiful photos you can choose from.
If you upgrade to a Trello Gold account, you can upload your custom background photos too. So if you're into it, the extra punch of personality might be worth a few extra bucks every month.
3. ENABLE YOUR CALENDAR POWERUP
Having a calendar on your Trello boards is a must.
To activate your calendar power-up, go to "Menu," then "Power-ups," you can either search for the calendar Powerup by typing in the keyword "calendar" or searching under the "Made by Trello" category.
From there,  click on "Add," and you're good to go.
Don't forget to add due dates to your cards, so they show up in the Calendar view, or create new cads directly from the weekly or monthly calendar view options.
Each Trello card comes with some great basic labels where you can choose colors and type in the label's keyword. 
Customizing them will help you keep track of priority tasks or give you the ability to see your progress at a glance. It can also help you make important distinctions between projects, which is essential when collaborating with clients or teams.
Tip: To show up the keyword for the label, click on the semicolon key on your keyboard, and the name of the label will automatically appear.
5. ADD TRELLO EXTENTION FOR YOUR BROWSER
This one is one of my favorite tricks. 
Adding the Trello extension to your browser means you can easily add cards to boards even while you're browsing other sites.
I use this when I stumble on useful blogs, new project ideas, want to save a web page for later, or just want my team to solve an issue on our own website.
It's so easy to use, just click the Trello extension, select which board and list you want your card to be saved in, and click "Add."
I hope you found these 5 Trello tips hepful.
Don't forget to grab a free copy of my  Personal Trello Board template (it can save you loads of time if you're just getting started.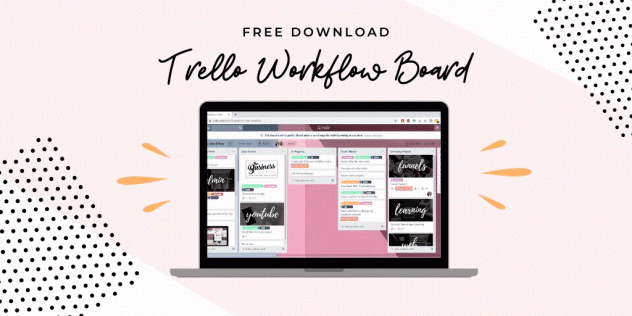 And if you're already a big Trello fan, we just check out our new Trello Template Pack here. Our readers have been asking for paid copies of our most popular Trello Templates and they're finally here. 🥳
Have a Trello question? Post it in the comments section below. We'd love to help get your Q's answered in future tutorials.
xx,
Kim
Spend Time Nailing Your Productivity, Not Your Trello Boards
We're big Trello fans, but staring at a blank Board wondering where to even begin isn't the most productive way to nail your workflow.
Enter our brand new Trello Template Pack.
With a few clicks, copy 7 of our Top Trello Board Templates, get right to customize your workflow, and skip the headache of starting from scratch.
Ready To Master
Online Marketing?
It's time to choose profitability over popularity and get needle-moving results.
Get started inside The Business Lounge.