So, you ghosted your audience on social media (or any other platform)… Now what?
It can be a little weird/intimidating to figure out what to say to get back to posting on social media after a break, can't it? But don't worry… We have you covered with exactly what to say (and more importantly, what NOT to say when you get back at it!).
Whether you took an intentional break like I often do just to disconnect & recharge, your life & business got so hectic that it felt impossible to keep up…
…Or you just straight-up ghosted for no good reason at all (hey, I've done it… no judgment here). You'll know exactly what to do and say by the end of this post.
Here's the good news: Taking a break from posting on social media isn't the end of the world (and thank goodness for that!).
Yes, we want to be as consistent as possible, especially at the beginning of your audience-building journey, but we're aiming for progress here, not perfection.
We get this question a lot from our subscribers who are worried about what to say or what to post after taking a break from social media, their podcasts, YouTube channels, email list, or whatever other platform they used to market their business & connect with their audiences.
And for good reason!
So we wanted to introduce a little segment here on the blog called Content Conundrums inspired by common questions you, our lovely audience, send in.
Fair warning, this one is a little spiiiiicy on the truth bomb department. I'm telling it like it is, but for good reason. 
I want to save you the angst of making the same mistakes I've made in my 10+ years of being on social media & creating content (going from managing hundreds of client accounts as a former social media manager to coaching and training 30k entrepreneurs & counting to leverage content marketing to grow businesses in virtually every niche you can think of).
Think of me as your protective older (or younger) sister who wants to see you crush your marketing game without the unnecessary stress. Sound good?
Okay, now that we're on the same page about my truth bomb game… let's get into the good stuff already!
---
✨ Snag Now: FREE Content Calendar Template✨
---
Catch up on our latest posts:
WHAT NOT TO SAY TO GET BACK TO POSTING ON SOCIAL MEDIA AFTER A BREAK
Let's start with the simple part… what not to say.
Here's what I often see entrepreneurs & small businesses say on their first post back when they've taken a break from social media (of course, I've totally done it too!)…
I call it "The Shame Sandwich" because it has three parts, and none of them are cute. 🤣
#1. They apologize…
"OMG, guys… I'm SO sorry for being away for so long! I feel so awful…"
#2. They give their audience a million excuses.
"I've just been so totally swamped with a million things, the kids are out of school, my manager quit, I had a million orders to ship out and … it's been crazy!"
#3. They promise to do better.
"But I'm back now. I have so many things to share with you guys and I promise I'm going to do better because you guys so totally deserve it!"
See what I mean? All three layers of this sandwich are full of well-intentioned, yet misplaced shame.
At first, this may seem like the exact right thing to do and say when you've been absent for a while.
I've done it, so if you have too, don't feel bad! After all, it sounds kind and thoughtful to apologize, make excuses, and promise to do better, right? It's a completely natural inclination when you're not a total douche.
But here's why this Shame Sandwich actually makes you look worse to your audience and what to do instead!
#1. Don't Apologize
Of course you should say you're sorry if you did something wrong… but… you didn't.
Hang with me here, this is a good one.
If you're reading this, chances are you are a busy entrepreneur and business owner, not an influencer. As an entrepreneur, you add the highest value to the world through your products, programs, and services, not your content.
I know, I know… I love and teach content creation all the time! So why am I saying this?
Because here's the thing… Your content is your marketing vehicle. It's a tool to add huge value that you choose to offer generously as a way of building relationships with your audience, garnering their attention, and moving them through your sales process…
Your content matters. It's important, and it does create impact…
But you are not obligated to produce that content. In the same way, because they are your followers and not your customers, it does not entitle them to that free content.
Businesses were alive and well before content came around. So don't get suckered into thinking you have this unspoken contract with your audience to produce content no matter what or you won't be able to grow your business because... you don't. 
Don't get me wrong, content is absolutely the fastest way to grow a business online… but it's not the only way. Here I go again with teasing another post for another time…
Anyway… here's the point.
Do you know that saying 'you teach people how to treat you"?
That's exactly how it works in business, too. Positioning is everything.
So the minute you apologize, you're treating your followers who consume your content for free like customers and that's a big no-no. Not because you don't care about them (the exact opposite, actually), but because in their minds, it creates an unhealthy expectation of the type of relationship they have with you and what they'll receive in return.
Hot Takeaway: Content is a wonderful marketing tool, but it isn't and should never be elevated to the same status as your paid offers. 
When you apologize for not producing content consistently, you inadvertently shift the perception of your brand in your audience's minds, and that creates a lose-lose scenario where you set the expectation that you are providing them with a commercial-level service through your content, and you are not.
This is the content trap most Content Creators fall into… but that's a Content Conundrum for another day.
LEVEL UP: Want to start creating irresistible content consistently even if you're super busy and without being 'on' all the time? Ditch the overwhelm for good with my Free Content Class!
#2. Don't Give Your Audience A Million Excuses
I've made this mistake too many times myself… and it feels icky every time.
The truth is, it's none of their business.
I'm laughing a little as I write this because I know it sounds harsh, but that's okay because we're all adults here and it's true.
When you give your people a million excuses for why you didn't provide them with something they didn't even pay for… it makes you look unprofessional.
Kind of like when you miss a deadline at work and gave your boss a million excuses instead of owning it, except…
Your audience is NOT the boss of you.
Side note: Do you think we'll ever escape the corporate conditioning?
We no longer have a boss to answer to as entrepreneurs, so we go and make our audience our boss…
Why do we do this? LOL.
Yes, I'm always psychoanalyzing why we do the funny things we do as entrepreneurs, but that again is another post for another day.
Here's the gist: I know you love your people (I do too!), but that's all the more reason to encourage a healthy relationship with them. 
One that empowers you to serve them through your content and paid products, vs. keeps you stuck in the nasty Shame Sandwich.
And finally…
#3. Don't Promise To Do Better
Can I give you just one more dose of tough love?
No one cares.
Instead of going on and on about what you intend to do… just do it.
It's the classic game of show, don't tell. Show your audience you care by producing content they care about. It's not about doing more or making promises you might not keep… It's about quietly owning it and moving forward.
So at this point, you might be thinking, 'Okay… Kim, you're going hard today, aren't you? But… what DO I say?"
WHAT TO SAY TO GET BACK TO POSTING ON SOCIAL MEDIA AFTER A BREAK
Great job! After a few truth bombs, you've finally made it to the good part…
Here's what to say to get back to posting on social media after a break.
Ready for it?
Okay, here we go…
You are going to say…
Nothing.
Absolutely nothing.
Just slide back in their feed and pretend like nothing happened.
"Kim, are you freaking kidding me? You made me read this entire thing just to tell me to say nothing?"
😂 I can almost hear what you're thinking right now… but here's why.
We all have this sense of self-importance…
Always thinking that our followers are sitting at the edge of their seats paying attention to every little thing we're doing… and some may be… but most people are off living their own lives.
Most of your followers probably haven't even noticed that you're gone, and by posting The Shame Sandwich, you're only bringing attention to the fact that you've been gone.
So why even do it?
Nope. Just get back to adding value to their lives by creating a really great post.
Here are some ideas…
5 ICEBREAKER IDEAS FOR YOUR FIRST POST BACK
Don't overthink your first post back. Just go post something!
And if you need some great ideas to get your wheels churning, here are 10 awesome ones straight from my brand new Content Starter Kit to help you get started…
Answer a question you get asked a lot.
Bust a common myth in your industry.
Ask for feedback on a project or secret product you've been working on.
Post about a personal struggle you've overcome (share 3 tips).
Celebrate a completed goal or milestone (a simple photo or story post will do).
Recommend your favorite book, blog, or podcast.
Re-share a blog, podcast, or video that's still relevant.
This or That! Poll for your audience on stories or the feed and give them two options to pick from.
Reply to a question you get often from clients/customers.
Ask your audience a question like "What book should I read next?"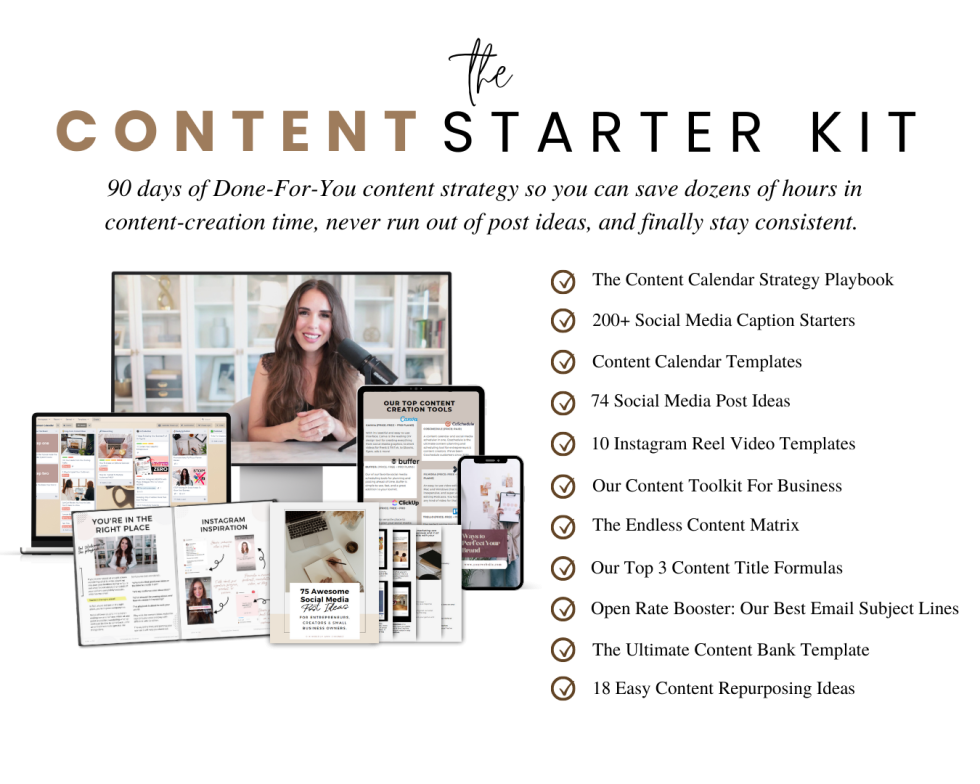 Remember, don't stress about it. This doesn't have to be the perfect post, it's just about getting back in the game, and re-igniting that conversation with your people.
OVER TO YOU
Got a Content Conundrum that we can feature next?
Post it in the comments, or just say hi because it makes me feel like I know you better (and I really want to know you better!).
But seriously… if you're reading this, comment below. I hope it helped you figure out what to say to get back to posting after taking a social media break.
I'd love to put a name to a face and say hi.
Un beso!
Kim